Pioneer has strongly denied that its still-distant third-generation high-def Blu-ray Disc DVD burner, the BDR-103, will be a combi model that's also able to write to HD DVD.



According to Pioneer, there's no truth in the rumour that is sweeping the internet. Instead, things appear to have gone horribly wrong after a misunderstandings at a press briefing given by the company at IFA - to which HEXUS was not invited.

Pioneer's line is that a journo from the German mag c't completely misunderstood the roadmap that was being shown and what was being said during the briefing. Whatever the case, after the c't' story was posted, a whole lot of technology web sites then took it up.

The HEXUS three-man team at IFA was unable to get any verification of the rumour - hence published nothing until now - but did manage today to track down the man who'd given the briefing, Brendan Sheridan, Product Manager (Components) for Pioneer Europe's Multimedia Division.

Brendan told us,



My comments to some press people at IFA have been taken totally out of context. They have concluded by themselves that Pioneer will be introducing HD DVD support into its third-generation Blu-ray Disc writer.


When we asked Brendan outright if Pioneer did intend to support HD DVD, he claimed that what he was about to say was what he always says when asked the question and what he believed he'd made quite clear at his briefing, that,



Currently we have no plans to support HD DVD and I

cannot confirm that we will be adding HD DVD support to any of our future-generation BD writer drives.


However, Pioneer

will

monitor the market situation with other formats and will

consider

adopting those formats as and when the market demands it.



So, what's the bottom line?

According to Brendan,



It is still the case that we have no plans to support HD DVD!


But did he or did he not tell c't magazine that the third-gen Blu-ray burner would offer HD DVD support?

Brendan says,



I mentioned to c't magazine that Pioneer would "consider" to add such a feature to our BD writer drives, but I certainly

did not "commit" to stating that our 3rd generation drive would definitely have HD DVD support. That would have been foolish!


Brendan was unwilling to let us have a copy of the roadmap discussed at IFA but did send us a summary of the company's current plans, though he pointed out that these are subject to change.

The second-gen Blu-ray disc burner (which we're assuming will be called the BDR-102A), will be a SATA model due in the first quarter of next year. It will have dual-layer Blu-ray support and also be able to write to DVD-RAM and CD-R/-RW. The contentious third-gen model (BDR-103A?) is scheduled for Q4 2007 and will, he says, be very similar to the 102 except for having faster write speeds.

It is possible that Brendan himself was telling us porkie pies about what he said in the briefing. After all, he undoubtedly will be getting a lot of flack if turns out that he had said, without authorisation, what's alleged.

Under most circumstances, though, we'd tend to think that he's had too much experience of dealing with the press not to know the dangers of letting a king-size cat like this one out of the bag.

But c't mag has a pretty good reputation for accuracy and has now added a rider to its story saying (as best as our limited German allows us to discover), not that the original was wrong but that Pioneer has for commercial reasons since changed its tune!

We wouldn't want to have to bet on who's nose is going to be getting longer. But we would wager money - as we'd have done before the c't story broke - that Pioneer, the company that did most to make combined DVD-/+R writers the norm, will be one of the first to bring out combi Blu-ray/HD DVD burners.

That's unlikely to happen, though, before the battle between the Blu-ray Disc and HD DVD camps has been fought to a standstill and until the cost of each type of burner has fallen far enough for a combi model not to be a totally unreasonable financial proposition.

But, judging by all the doom and gloom we were hearing about Blu-ray Disc at IFA, that day may still be a long-way off. For details of the issues, keep an eye on our IFA pages.

For now, it's worth point out that, compared to very many stands at the IFA show, the Blu-ray Disc camp's stand was something of a runt. It was small and far from impressive - doubly so considering the large number of firms backing the format - and had too much product out of reach in plastic cases, many of them only prototypes, including a mock up of a Sony PS3 console.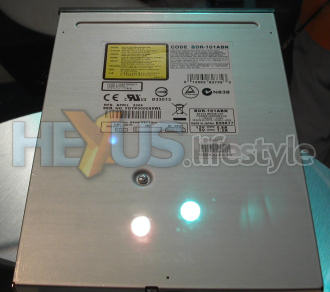 Pioneer's Mk1 Blu-ray burner, the

BDR-101A. It was

one of the

out-of-reach products that wasn't a prototype



Who do you think is telling the truth? Let us know in this thread in the HEXUS.lifestyle.news forum.


HEXUS.links
HEXUS.community :: discussion thread about this article
HEXUS.lifestyle.headlines :: IFA - Internationale Funkausstellung - Berlin 2006

External.links
c't magazine - Pioneer plant Kombilaufwerk für Blu-ray und HD DVD
c't magazine - home page