Pioneer is on the verge of releasing its first BD/DVD/CD writer with support for Ultra HD Blu-ray playback on PCs. The BDR-211UBK is a bare drive meant to be installed in a spare bay in your PC chassis. Pioneer bundles quite a comprehensive suite of software including CyberLink PowerDVD 14, which is said to be necessary for playing back 4K/UHD Blu-rays on your PC.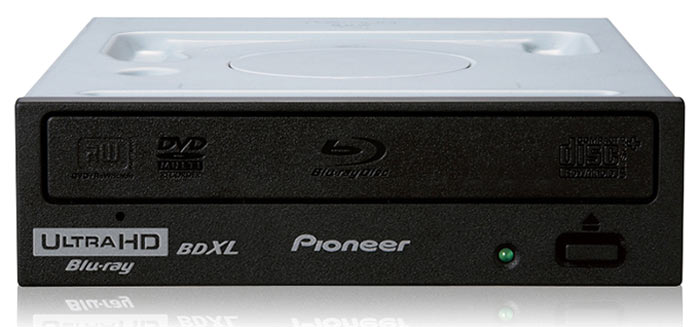 Tech site Fudzilla notes that Pioneer and other ODD players announced the first UHD Blu-ray disc drives for PCs nearly 15 months ago. This particular combination CD/DVD/Blu-ray writing and UHD Blu-ray playing drive isn't the only one coming from Pioneer as two further drives were announced this January.
Content copyright holder paranoia means that there are layers of DRM requiring certain hardware in your PC. The PlayReady 3.0 DRM is only 'play ready' with certain CPUs and GPUs which include; the Intel 7th-gen Kaby Lake processors, Nvidia's GeForce 10 series (Pascal) lineup, and AMD's Radeon RX 400 series (Polaris) lineup.
Below I have summed up the Pioneer BDR-211UBK key tech specs:
Ultra HD Blu-ray playback, up to 3840 pixels ×2160 pixels with higher colour gamut
Up to 16x maximum write speed on BD-R single-layer discs, 14x on BD-R DL discs and 8x on BD-R triple-layer discs
Stores up to 156 per cent more data on BDXL media. (Triple layer discs support up to 128GB).
QuickPlay of BD-ROM and DVD-ROM discs
4MB data buffer
SATA III interface
Accompanying PC requires a minimum of 6GB of RAM along with a display that supports HDCP 2.2 content protection over an HDMI 2.0a/b port plus PlayReady 3.0 decoding hardware as mentioned above.
Region can be changed up to 5 times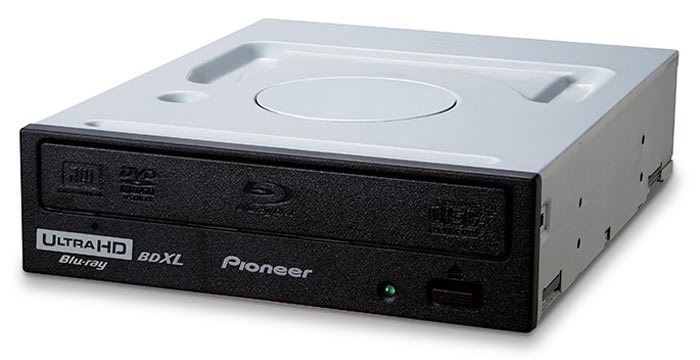 As mentioned in the intro, a comprehensive suite of software is provided alongside the BDR-211UBK. It's all CyberLink made and includes; PowerDVD 14 UHD-BD, Power2Go 8, PowerDirector 14 LE, PhotoDirector 5 LE, InstantBurn 5, and Label Print 2.5.
Pioneer says that its new ODD for PCs will be available in the US from "late March" priced at $129.99. The price seems quite reasonable for those who like to view store-bought discs for their high bit-rate image quality.