Only a few short months since launching in Japan, the UK will soon be able to get a taste of super-high capacity BDXL drives, courtesy of Pioneer.
The BDR-206MBK will support the new triple- and quad-layer BDXL discs with capacities of 100GB and 128GB, respectively, at speeds of up to 4x as well as 100GB rewritable discs at up to 2x. Obviously the drive will also be able to read and write regular single- and dual-layer Blu-ray media at up to 6x, DVD+R/-R at up to 8x and CDs at up to 24x.
They will also ship with CyberLink's PowerDVD 10 suite to help with both content creation and playback, which includes support for 3D Blu-ray films.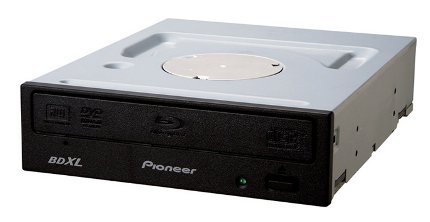 As for the interface, the BDXL burners will obviously only support SATA, although a previous announcement mentioned that Buffalo would be bringing out a USB 2.0 version at some point. However, it isn't clear if or when it will make it to these shores.
Although pricing hasn't been announced yet, don't be surprised if you have to pay a healthy premium for the privilege of burning to BDXL media once the drives arrive in the UK in January. Of course, this is in addition to the undoubtedly sky-high price of triple- and quad-layer discs once they become available here. However, this is just the price you have to pay for being on the 128GB cutting edge.