Samsung has officially announced that it has begun mass production of 512GB embedded Universal Flash Storage (eUFS) storage solutions. An industry first, these capacious storage components are fabricated from eight 64-layer 512Gb Samsung V-NAND chips plus a controller chip in a package as pictured below. With the introduction of this new storage solution Samsung has doubled the density of its previous 48-layer V-NAND-based 256GB eUFS (yes, the total component volume remains the same but it offers twice the storage capacity).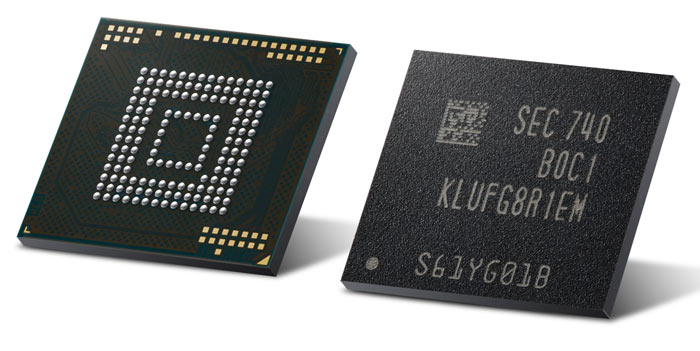 Next generation premium mobile devices will be targeted for adoption of the first run of 512GB eUFS storage solutions. Samsung said the mass production schedule will ensure planned launches of next-generation mobile devices should happen on time. Perhaps it's got an eye on CES 2018 in January and / or MWC 2018 which spans Feb and March next year. We also expect to see the rollout of Samsung's own 2018 flagship Galaxy S9 devices at that time.
Having a smartphone with 512GB of fast storage on board would certainly reduce the propensity for users to pine for SD card expandability. Samsung says that its fast eUFS storage is perfect for next gen devices which could bump into "potential limitations in system performance that can occur with the use of micro SD cards".
The capacity of the new eUFS drive is up there within its name, but what of the performance on offer? Samsung describes the 512GB eUFS performance as strong with internal testing revealing sequential read and write speeds reaching 860MB/s and 255MB/s respectively. In practical terms that means you could copy a "5GB-equivalent full HD video clip to an SSD in about six seconds, over eight times faster than a typical micro SD card". In terms of IOPS, Samsung quotes reads of 42,000 IOPS and writes of 40,000 IOPS - hundreds of times faster than a conventional microSD card, says the South Korean tech giant. This means the eUFS storage will be adept at multimedia experiences that rely on high-bit rate media, great for burst photography, and be capable of high resolution movie recording without any issues.
Samsung didn't provide power consumption figures but says this metric was carefully considered in the design of the new 512GB eUFS. It cites an advanced circuit design and new power management technology used to minimize the energy consumed by this capacious storage device.
When will the first devices packing Samsung's 512GB eUFS storage launch? As touched upon above, it sounds reasonable to expect such devices early next year with mass production underway already.