Introduction
The Internet lets out a collective sigh each time Apple launches a new iPhone with just 16GB of onboard storage, but such news is welcomed by manufacturers who dabble in wireless storage solutions.
We've already seen the likes of Corsair, Seagate and WD present their wares, and today we turn our attention to Asus, whose Travelair AC offers 32GB of flash storage, both 802.11ac and NFC connectivity, as well as 10 hours of battery life and an integrated SD card reader in a tidy little package.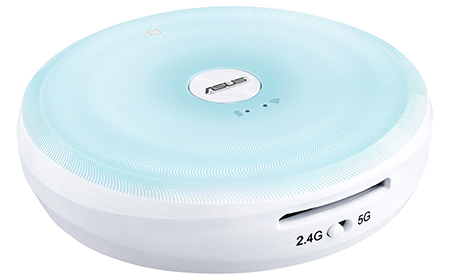 Pricing is set at £60 in the UK, and on first inspection it's a neat-looking device. Similar in size to a hockey puck but rounded for aesthetic comfort, the Travelair is 21mm thick, 86mm in diameter and tips the scales at 120g. It's just about small enough to slip into a good-sized pocket, but we suspect most users would prefer to keep it in their travel bag.
Tidy Design
Asus's product shots don't do the design justice, as the Travelair looks and feels less toy-like in the flesh, and though build quality is lightweight and plasticky, there are no squeaks nor rattles. The only obvious omission, we feel, is a lack of rubber feet on the underside to prevent the device from sliding about on a desk.
Connectivity options couldn't be much simpler. The top of the device is home to a central power button, WiFi and battery status LEDs, as well as an NFC sensor for quick pairing to a compatible mobile device.

Travelair's rear edge is home to a solitary micro-USB port whose primary purpose is to charge the internal 3,000mAh battery. The commonplace connection also allows the device to be used as an everyday external storage device, and with this in mind, it's a shame Asus hasn't implemented the faster USB 3.0 standard.
Connectivity
As an external storage device, Travelair AC returned disappointing sequential read and write speeds of 21MB/s and 13MB/s, respectively, when tested via the aforementioned USB 2.0 interface. It's also worth noting that a USB 2.0 cable is supplied, but a mains adapter isn't, so you'll be relying on your PC or laptop for charging duties without third-party hardware.
Over on the front edge, Asus implements an SD card reader for straightforward storage expansion and a 2.4G/5G toggle that provides an option to switch between wireless bands. The latter in our estimation adds an unnecessary layer of complexity, and while we appreciate the fact that range and speed can vary between bands, we'd have preferred the Travelair to pick the best band automatically to remove any end-user uncertainty.
AiDrive App
Establishing a wireless connection is simple and straightforward. Start by downloading the AiDrive companion app (available for Android, iOS and Kindle) then turn the Travelair AC on, browse to your mobile device's WiFi settings, and select the 'Travelair-XXXX' network.
The app, pictured on iPad, is logically laid out with colourful presentation and provides quick access to content. Note that no WiFi security is enabled in the out-the-box configuration, potentially allowing unauthorised access to stored files, so it's a good idea to start by applying a WPA2 password.
As with most wireless-storage devices, the Travelair AC supports Internet pass-through, allowing for web connectivity while tethered to the drive. Setup is straightforward, though be aware that Internet access speed will suffer when used via this bridged mode. Connecting straight to a router, our iPad was able to sustain a download speed of 44Mbps, but that figure dropped to 14Mbps when connected via the Travelair AC.
Despite touting "ultra-fast mobile sharing and backups," performance doesn't appear to be the Travelair's strong point. To test wireless transfer speed, we recorded a 415MB video on an iPad and then copied the file across first on the 2.4G band and then via 5G. The process took 170 seconds on the former and 145 on the latter. It would be a stretch to class either as ultra-fast, yet performance is sufficient for casual use - we had no trouble streaming full-HD movies, picture thumbnails appear suitably quick and it's easy to cast content to compatible devices such as smart TVs.
Asus scores well on the flexibility front. Travelair AC allows for up to five simultaneous connections - making it ideal for sharing your family's multimedia - and if WiFi security alone doesn't offer enough peace of mind, there is an option to create a password-protected user account. There's even an option for a guest account, and if you need to fine-tune your wireless connection, you can dig into the settings menus and manually select a broadcast channel.