Today Corsair has launched its "Extremely Rare, Exceptionally Crafted" Dominator Platinum Special Edition DDR4 memory. This high performance memory is being made available in a variety of kits/configurations to appeal to people building or upgrading a system based upon an Intel X99 and 100 series motherboard. These modules are carefully selected and rated at 3200MHz but "can be safely overclocked up to 3600MHz," says Corsair.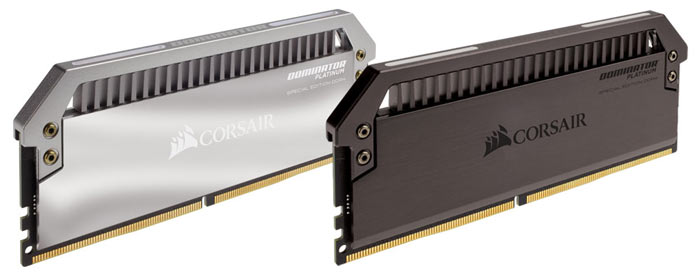 What makes these 'Special Edition' memory modules? There are a number of things Corsair has brought to the table to appeal to those on the hunt for great performance, with looks to match. The design highlight is probably the overall finish of these modules; Corsair is selling both 'Chrome' polished and 'Blackout' matte finish modules.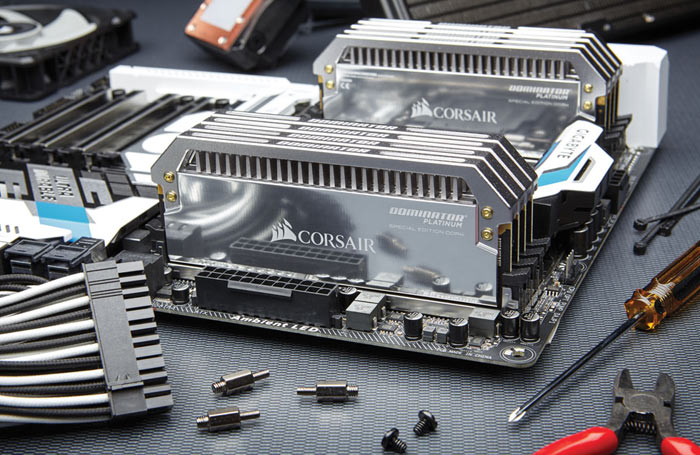 The Chrome finished modules, shown above, are covered with highly polished mirror-finished aluminium with sandblasted textured upper edges. In a contrasting look, Corsair's Blackout modules are surface coated by matte black sandblasted aluminium with the upper edges highly polished like a black mirror.
Turning up the eye candy level to 11, Corsair has fitted an upgraded light bar to these memory modules. Across the top of the memory module, cutting in and out between the rungs of the top bar you can see a pure white LED pipe installed and shining when powered up.
Above and beyond all the 'exclusive' special edition appeal, Corsair's Dominator Platinum Special Edition DDR4 Memory is also a limited edition: there will only be 500 of each module released. Corsair has individually laser-engraved and numbered each module.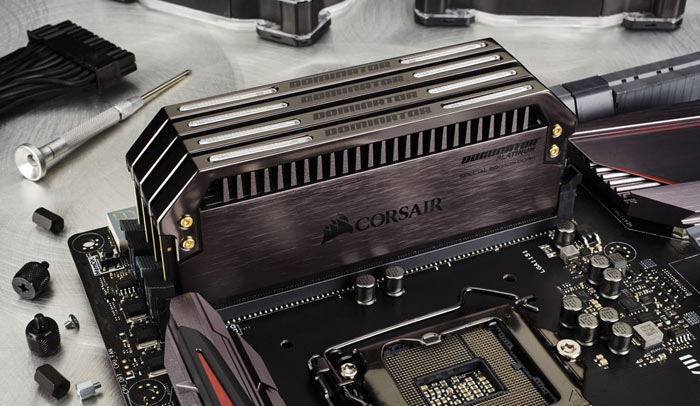 Of course, looks aren't enough to sway a buying decision if the underlying tech isn't up to scratch, so Corsair has made sure these DDR4 modules have tip-top specs including; a 10-layer PCB, patented DHX cooling technology, and full XMP certification for one-touch overclocking.
Corsair told HEXUS that these limited edition modules are available immediately direct from Corsair in the United States, UK and Germany. For your convenience I have included the product SKU and pricing matrix, below.
| | | |
| --- | --- | --- |
| SKUs | Description | Price |
| CMD32GX4M4C3200C14C | 32GB (4X8GB), DDR4 3200, Chrome | $329.99 Exc Tax, £309.99 Inc. VAT, €359.99 Inc. Tax |
| CMD32GX4M4C3200C14M | 32GB (4X8GB), DDR4 3200, Blackout | 329.99 Exc Tax, £309.99 Inc. VAT, €359.99 Inc. Tax |
| CMD32GX4M2C3200C14C | 32GB (2X16GB), DDR4 3200, Chrome | $299.99 Exc Tax, £279.99 Inc. VAT, €319.99 Inc. Tax |
| CMD32GX4M2C3200C14M | 32GB (2X16GB), DDR4 3200, Blackout | $299.99 Exc Tax, £279.99 Inc. VAT, €319.99 Inc. Tax |