At a meeting of 100 members of the Hybrid Memory Cube Consortium (HMCC) the specifications for the new faster 3D memory have been finalised. This is a "much anticipated, disruptive memory computing solution" which will allow manufacturers to start producing hardware that offers approximately 15 times the throughput of today's DDR3 RAM.
The new Hybrid Memory Cube (HMC) technology design initiative was started only 17 months ago. Now a wide range of OEMs big and small can start to use the technology, confident in its compatibility with other systems being designed to take advantage of it. The 100 tech companies that worked to create the finalised specification include: ARM, Fujitsu, HP, IBM, Micron, Samsung and SK Hynix.
Jim Elliott, Vice President, Memory Planning and Product Marketing, Samsung Semiconductor, Inc said of the new standard "The consensus we have among major memory companies and many others in the industry will contribute significantly to the launch of this promising technology". He continued "As a result of the work of the HMCC, IT system designers and manufacturers will be able to get new green memory solutions that outperform other memory options offered today."
Robert Feurle, Micron's Vice President for DRAM Marketing came out with a very snappy sound-bite, saying the new final specification agreement milestone "marks the tearing down of the memory wall". He believes that there will be "radical improvements" to computing systems as a result of the HMCC agreement.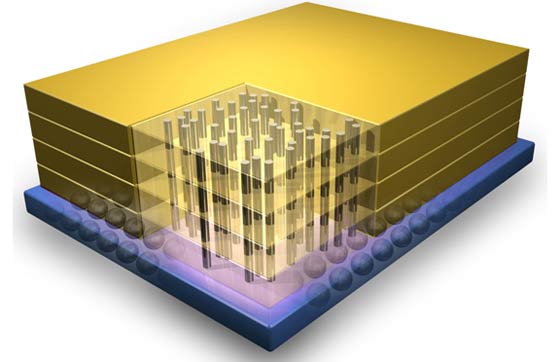 The key motivation for creating the HMC was that memory bandwidth required by high performance computers had increased beyond what the conventional memory architectures could efficiently provide. The consortium's next goal is to further advance the standard to increase data rates, so they already are planning a HMC2.0 standard.
The HMCC site informs us that "a single HMC can provide more than 15x the performance of a DDR3 module". Furthermore it is a revolutionary technology unlike the DDR4 initiative. It is predicted that "Hybrid Memory Cube could be an absolute game changer for applications ranging from high performance computing to consumer technologies like tablets and graphics cards that value a combination of form factor, energy and bandwidth". You can read more about the new memory standard here.