Corsair's product range might be getting bigger year by year, but the manufacturer isn't forgetting its roots and is expanding its range of memory solutions with the launch of the Vengeance LP.
The modules, pictured below, are the latest addition to the mid-range Vengeance line and feature a low-profile 26.25mm heat spreader designed to fit around meaty CPU coolers.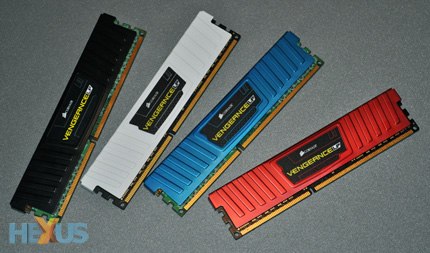 Handy if you need the additional clearance - these are over 21mm shorter than standard Vengeance DIMMs - and they're available in a range of colours, too, including Jet Black, Cerulean Blue, and Special Edition Arctic White. What makes the Arctic White special? A reduction in operating voltage from 1.5V to 1.35V.
We've yet to receive word on pricing, but the following range of 4GB, 8GB and 16GB kits will be launching next week.
| | | | | |
| --- | --- | --- | --- | --- |
| Size | Speed | # of DIMMs | Heat Spreaders | Part Number |
| 16GB | 1600MHz, 9-9-9-24, 1.5V | 4 | Cerulean Blue | CML16GX3M4A1600C9B |
| 16GB | 1600MHz, 9-9-9-24, 1.5V | 4 | Jet Black | CML16GX3M41600C9 |
| 8GB | 1600MHz, 9-9-9-24, 1.5V | 2 | Jet Black | CML8GX3M2A1600C9 |
| 8GB | 1600MHz, 9-9-9-24, 1.5V | 2 | Cerulean Blue | CML8GX3M2A1600C9B |
| 8GB | 1600MHz, 9-9-9-24, 1.35V | 2 | Arctic White | CML8GX3M2A1600C9W |
| 4GB | 1600MHz, 9-9-9-24, 1.5V | 2 | Cerulean Blue | CML4GX3M2A1600C9B |
| 4GB | 1600MHz, 9-9-9-24, 1.5V | 2 | Jet Black | CML4GX3M2A1600C9 |