Kingston has today extended its high-end range of HyperX memory modules with a selection of low-voltage kits designed to bring high performance to eco-conscious consumers.
The kits, branded as LoVo HyperX, offer 2GB DDR3 modules capable of hitting 1,600MHz at a record-breaking 1.25 volts.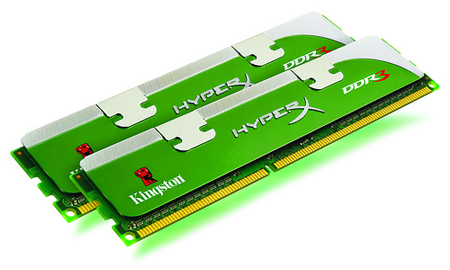 Wanting to ensure the modules stand out from regular HyperX alternatives, the LoVo modules don a green-coloured heatsink and are available in a choice of kits.
At the top of the range, Kingston has a 4GB dual-channel kit (KHX1866C9D3LK2/4GX) equipped with two integrated XMP profiles, allowing it to run at either 1,866MHz at 1.35v or 1,600MHz at 1,25v, with latencies at 9-9-9-27.
Those not wanting to play with XMP profiles can instead turn to a more mainstream 4GB kit - the KHX1600C9D3LK2/4GX, set to run at 1,600MHz at 1.35v with the same latencies. Last but not least, an ultra-low-voltage 4GB kit - KHX1333C9D3UK2/4GX - rounds off the range by offering speeds of up to 1,333MHz at 1.25v.
All three kits are backed by Kingston's lifetime warranty, and we're told to expect suggested retail pricing of $203 for the KHX1866C9D3LK2/4GX, $158 for the KHX1600C9D3LK2/4GX and $154 for the KHX1333C9D3UK2/4GX.