With high-speed DDR3 memory having a tendency to target Intel's high-end Core i5 or Core i7 platforms, it's sometimes easy to forget that AMD has its own DDR3-supporting platform in the form of the AM3-based Phenom II.
Cash-strapped enthusiasts might tell you that a Phenom II system offers plenty of performance - with decent overclocking headroom, too - and memory-specialist Corsair has today nodded in agreement with the launch of an ultra-high performance 4GB DDR3 memory kit designed specifically for Phenom II systems using AM3 boards.
The kit, forming part of Corsair's enthusiast-orientated Dominator GT line, consists of a pair of 2GB modules that are said to be "precision engineered" to operate at 1,600MHz, with ultra-low latencies of 6-6-6-18.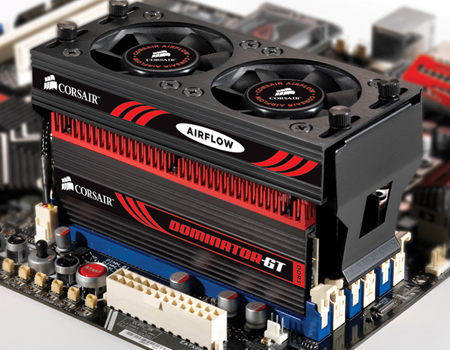 The AMD faithful will be glad to hear that Corsair's modules support AMD's Black Edition Memory Profiles, allowing for latency timings to be configured in Windows using AMD's OverDrive tweaking software.
As you'd expect, the modules feature Corsair's DHX+ heatsink - complete with removable cooling fins that allow for beefed-up coolers such as Corsair's own Hydro H30 and Ice Series T30 to be put in place.
That's the good news, but the bad news is that the kit - complete with bundled Airflow fan - will be limited in availability due to "the complexity in screening, manufacturing and testing". As a result, it'll be available only from Corsair's online store with a price tag of $349.99.