Upgrade to 4GB for less than 1/4th the cost of the Apple factory option
It's no secret that we at HEXUS aren't too keen on paying Apple to carry out memory upgrades that we can do ourselves on the cheap.
Thankfully, we're not alone as OWC has announced its 4GB memory kits for Apple's newly announced MacBook and MacBook Pro Core 2 Duo models.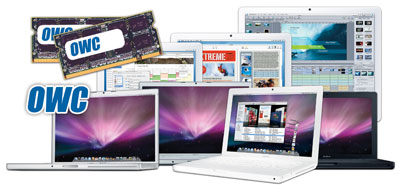 The 4GB memory kits (2x2GB) are available immediately at a retail price of $95.99. In addition, customers can trade-in two 1GB modules and claim a further $20 cash-back. Unfortunately, UK customers will need to pay at least an extra $20 for the overseas shipping. But, even then, it'll work out cheaper than Apple's factory option.
Larry O'Connor, OWC president said:
"We're all about maximising performance and impressively, we've found there can be better performance attained even between 2.0GB and 3.0GB memory configurations than getting a new system with a faster processor. More memory makes a tremendous difference, as our real world testing illustrates, and going up to 4.0GB offers a noticeably significant benefit beyond just what a faster processor provides."
If you're interested in upgrading your MacBook or MacBook Pro, head on over to OWC's macsales.com.
Meanwhile, if notebooks aren't your thing and you want to upgrade your Mac Pro, check out the HEXUS tutorial on upgrading a Mac Pro to dual 3.2GHz monsters!
Official press release: OWC ANNOUNCES 4GB UPGRADE KITS FOR NEW MACBOOK & MACBOOK PRO CORE 2 DUO MODELS