While rival semiconductor companies have developed modern non-volatile memory solutions such as 3D XPoint or NVDIMMs, Fujitsu is taking a different tack in the wake of its licensing agreement with US-based Nantero Inc. Backed by investment arms of companies such as Dell, Cisco, and Kingston Technologies, we will likely see Nantero designed carbon nanotube NRAM DIMMs reach the market in 2019. The first such components will be made on Fujitsu Semiconductor's mature 55nm process and offer persistence, high endurance, RAM-like speeds, and greater power efficiency.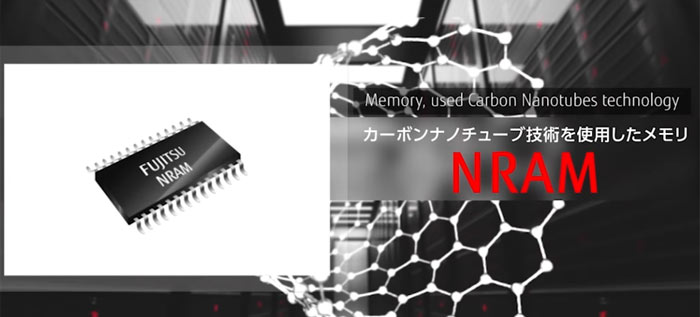 Nantero already had a 16-gigabit DDR4 compatible design that was price-competitive with DRAM because it uses a selector-free cross-point design, as it stated back in April. As well as the DDR4 module, it was working on a standalone module for storage caching, and several embedded memory products using NRAM tech.
In its technology explainer video, above, Fujitsu reminds us of the attractive qualities of NRAM:
NRAM uses carbon nanotube technology,
It offers faster write speeds,
And lower power consumption compared to rival tech.
NRAM is persistent, which is good for functionality and power saving,
These features will make it attractive in various applications such as big data, IoT Edge, authentication, networks and wireless.
NRAM can operate at high temperatures,
So it is good for automotive, industrial and IoT applications.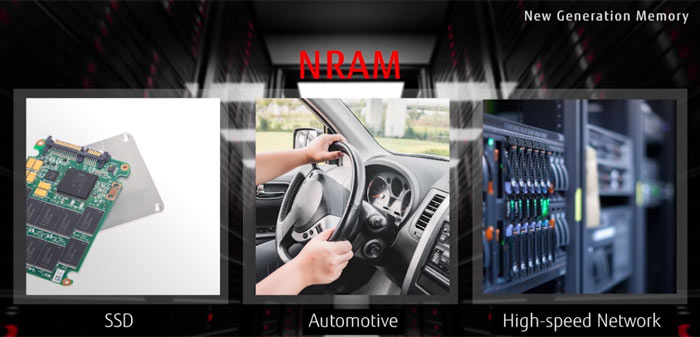 Fujitsu believes that NRAM has the "potential to replace DRAM", due to the attractions outlined above. After its initial LSI mass production run, Fujitsu intends to expand its NRAM product lineup. Initial take-up is expected to be by large corporations, such as the backers of Nantero, but hopefully if this new memory tech proves compelling in that area we will get drip-down to home PCs and electronics.