The last time I wrote about battery-less devices powered by ambient backscatter was back in 2013. Fast forward six years and the IoT is now a very familiar industry buzzword - but the problem of powering the billions of connected devices remains. People don't want to have to plug-in or change batteries in all the IoT devices that proliferate, and there will be lots of them – 500 billion IoT devices by 2030, according to Cisco.
Thankfully tech firms and researchers have been busy trying to develop new ambient power harvesting devices, which can be incorporated into sensor networks and similar, so they won't need dedicated power sources. Today the Japan Science and Technology Agency (JST), Fujitsu Limited, and Tokyo Metropolitan University announced a newly-developed nanowire backward diode has achieved more than 10 times the sensitivity of conventional Schottky barrier diodes, described as a 'world first'.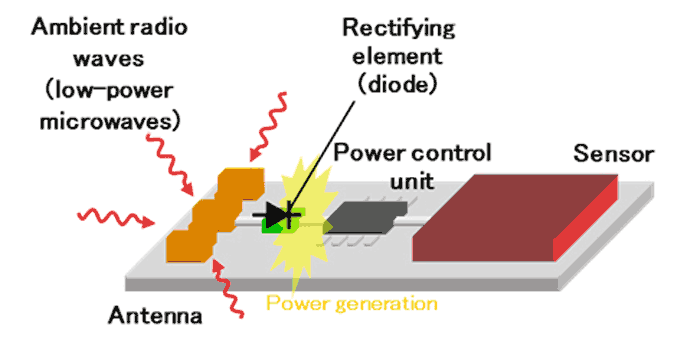 The new nanowire backward diode can covert low-power microwaves, which abound in our environment as radio waves, into electricity. It is much more sensitive than conventional diodes, and therefore much better at harvesting this background source of electricity.
In testing the new technology in the microwave frequency of 2.4GHz, which is currently used in the 4G LTE and Wi-Fi communication line standards for mobile phones, the sensitivity was 700kV/W, roughly 11 times that of the conventional Schottky barrier diode (with a sensitivity of 60KV/W). Therefore, the technology can efficiently convert 100nW-class low-power radio waves into electricity, enabling the conversion of microwaves emitted into the environment from mobile phone base stations in an area that is over 10 times greater than was previously possible (corresponding to 10% of the area in which mobile phone communications are possible). This has led to expectations that it can be used as a source of power for sensors.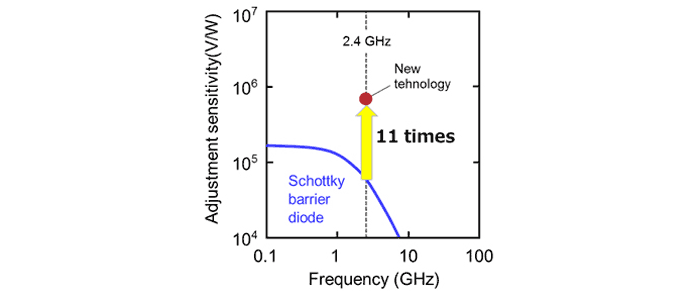 Microwaves with a power level of 100nW and upwards can be converted into electricity thanks to the nanowire which is about a thousandth of the width of a human hair. The researchers now have high hopes of refining the nanowire diode design, and the radio wave collecting antenna, to implement power control for constant voltage. Such radio waves are emitted by4G LTE, 5G, and Wi-Fi devices that are already commonplace. The new nanowire devices are thus hoped to be instrumental in ushering in the true IoT era.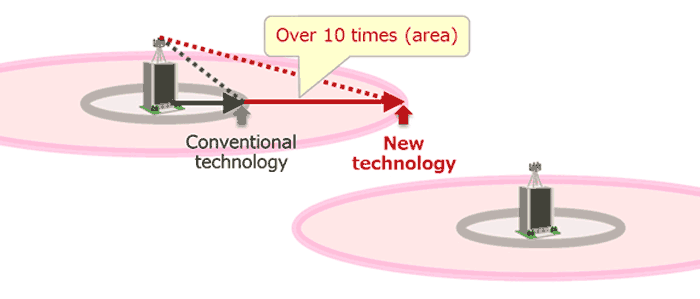 More details of the nanowire diode research will be revealed at the European Solid-State Device Research Conference (ESSDERC) in Poland on Thursday.