Corsair launches two new high-specification PSUs
Corsair, the well-known memory manufacturer, has been diversifying its portfolio of late. It's successfully launched a water-cooling line and a range of flash media devices. Now, though, it's keen to tempt enthusiasts with two all-new PSUs. That's right, you could soon be using Corsair RAM, watercooling, PSUs and flash media in your PC.

Going after the premium market, Corsair today launched 520W (CMPSU-520HX) and 620W (CMPSU-620HX) models. We've managed to snag the 620W one for review, so let's take a brief look.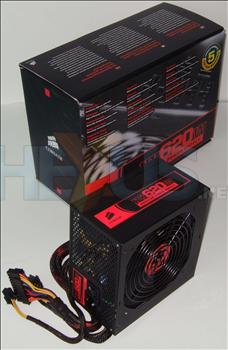 Understated power, don't you think?

The specs. are anything but understated. The 620W model is a modular design that features am ultra quiet, double ball-bearing, temperature-controlled 120mm fan. The PSU itself is compliant with both ATX v2.2 and EPS12V 2.91 standards, just as you would expect.

Power-wise, the HX620 supports a combined output of 50A on the crucial 12V line. It has a triple-rail design that can power CPUs and most graphics cards. Obviously, it meets both CrossFire and SLI requirements, allowing you to run poweful multi-GPU rigs. Additionally, there's inbuilt circuitry that re-routes power from other 12V lines should a component overload a single 12V rail.

Companies often talk about the PSU's power rating, much in the same way that processor companies previously evangalised MHz ratings. Power doesn't mean a whole deal unless it's backed up by solid engineering. The HX620 also uses 105C-rated industrial capacitors, whereas most companies make do with 85C-rated models, and Corsair reckons the 620W model can deliver full specified load at 50C (ambient temperature). Just as importantly, it's claimed the PSU delivers 80%+ efficiency across a wide-load range (140W-620W, incidentally), thanks to double-forwarded switching circuitry.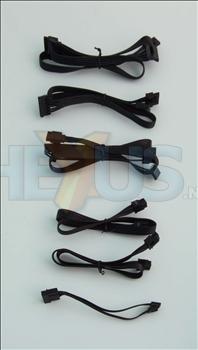 Being modular in design, the Corsair HX620 offers a total of 8 SATA connectors (4 on the HX520W) as well as the usual myriad of cabling, some of which you see above, which benefits from low-resistance gold-plated connectors.

Corsair also offers a comprehensive 5-year warranty on its PSUs, and both models are RoHS compliant.


Summary
Corsair is going after the enthusiast in a big way. It's recognised that premium PSUs are becoming big business and has launched what appears, on paper at least, to be two impressive models.

We're currently evaluating the 620W model against a number of big-name 600-700W PSUs, so stay tuned for the complete review and rating.

You can read more about the PSUs here.