EVGA has launched its new SuperNOVA G5 Series power supplies. Designed to succeed the SuperNOVA G3 Series PSUs, which were launched in 2016, the new series builds upon the compactness, efficiency, performance and reliability to "push the envelope" further.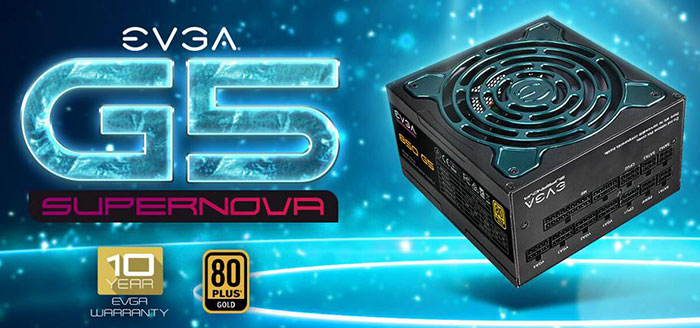 The new EVGA SuperNOVA G5 Series are all gold rated for efficiency - 80 PLUS Gold. Under typical load, these PSUs are 91 per cent efficient of better, says EVGA. Additionally the G5 power supplies feature an "active clamp circuit design, DC-to-DC converter, and active PFC to provide tight voltage regulation and low ripple and noise," says EVGA.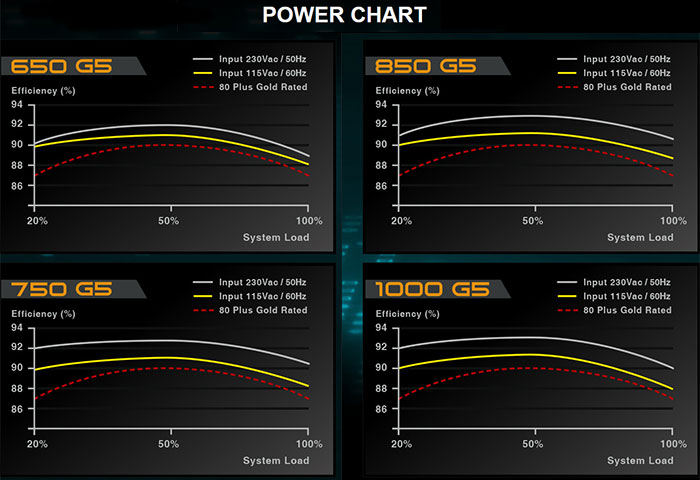 EVGA shares power charts for each of the new G5 PSUs (650, 750, 850, and 1000W models) which shows they clearly operate well beyond the 80 PLUS Gold standard. Another aspect of the design that will be instrumental to efficient and trouble free performance is EVGA's use of the "highest possible quality Japanese capacitors". EVGA says the modular board features 100 per cent aluminium solid state capacitors.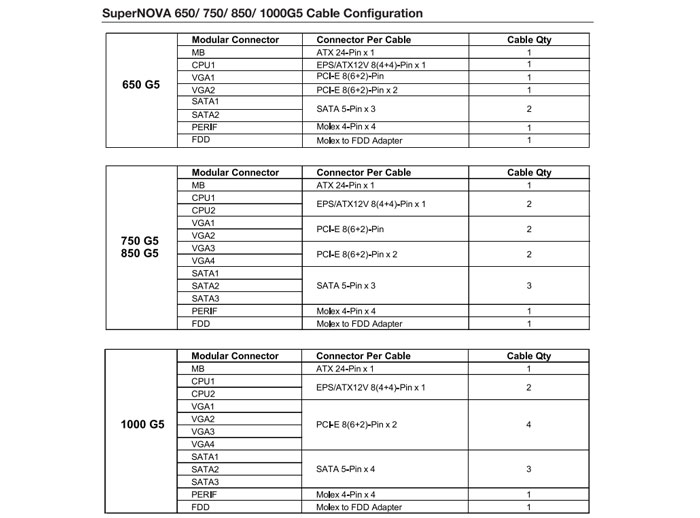 As you would expect of the successor to the SuperNOVA G3 Series PSUs, the G5 Series is fully modular. Using only the cables you need helps keep your system build tidy and improve airflow within the chassis. On the topic of airflow, and cooling, EVGA has equipped an ultra quiet 135 mm fluid dynamic bearing fan. It uses a larger fan than the G3 Series, to shift more air at lower RPM, while not making the PSU any larger. Furthermore, it uses the new EVGA ECO Mode fan profiles. Fan noise charts are provided for each of the four new PSUs if you want to peep at them.

Click to zoom specs
The EVGA SuperNOVA G5 Series PSUs feature the following protections; OCP, OVP, UVP, OTP, OPP, and SCP. EVGA backs up its talk of quality and reliability with an impressive 10 year warranty and support pledge.
These new PSUs are available to order now in the US (didn't seem to be listed in Europe).
EVGA SuperNOVA 650 G5: $74.99 after mail-in rebate
EVGA SuperNOVA 750 G5: $79.99 after mail-in rebate
EVGA SuperNOVA 850 G5: $89.99 after mail-in rebate
EVGA SuperNOVA 1000 G5: $114.99 after mail-in rebate