Just ahead of the weekend EVGA launched its new improved SuperNOVA G1+ power supplies. These replace the well regarded EVGA SuperNOVA G1 line which launched back in 2013. In an email to HEXUS, EVGA highlighted some meaningful improvements that are delivered with the G1+ PSUs.

The EVGA SuperNOVA G1+ is a fully modular power supply range with 80+ GOLD efficiency rating. Compared to its predecessor, the new G1+ utilises "a cleaner internal layout to increase airflow." It also offers a Variable Resistor module (to increase voltage stability), two DC to DC modules for more efficient power switching on all models, a full suite of power supply protections, and an EVGA 10 year warranty.
Key Features
Shorter Length – Up to 20mm shorter than G1.
Quieter and Longer Lasting Fan – Fluid Dynamic Bearing for the ultimate in quiet operation and long life operation.
Tighter 12V Load Regulation for clean and stable power.
Up to 22 per cent Quieter Under Load
10 Year EVGA Warranty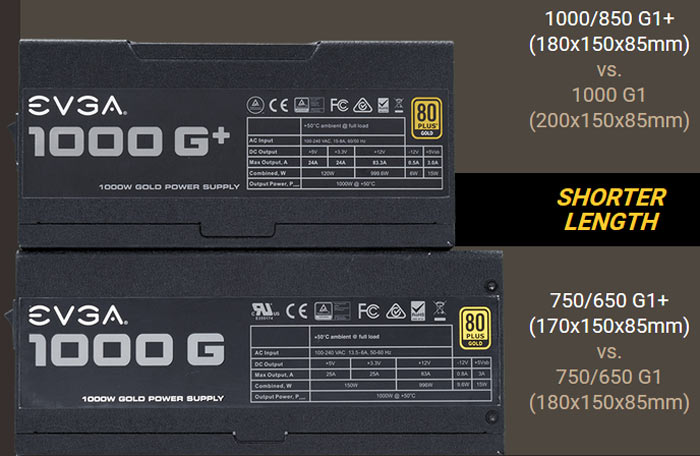 When putting together your PC component sizes can be crucial. EVGA has optimised the new G1+ range to be shorter in length, providing more free space, or room for other components in your system build. Depending upon the model chosen the new G1+ PSU will be 10 or 20mm shorter than the last generation, as illustrated above.
Other notable improvements delivered by the SuperNOVA G1+ are down to component choices. For example; the new PSU includes a 135mm Fluid Dynamic Bearing Fan instead of a dual ball bearing model, upgraded components result in tighter 12V load regulation, and overall the PSU is 22 per cent quieter thanks to the components and layout.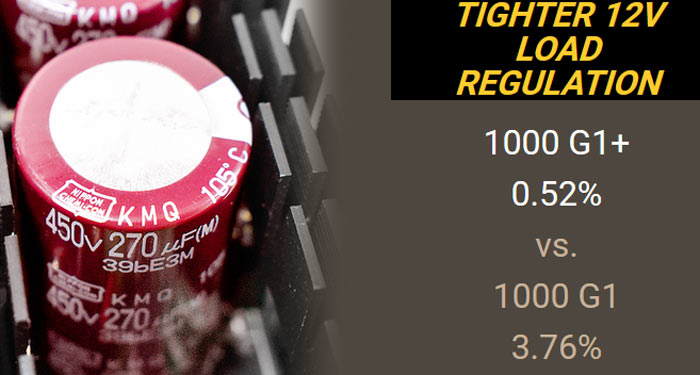 OVP (Over Voltage Protection), UVP (Under Voltage Protection), OCP (Over Current Protection), OPP (Over Power Protection), SCP (Short Circuit Protection), and OTP (Over Temperature Protection) are all included.
EVGA has launched 650W, 750W, 850W and 1000W versions of its SuperNOVA G1+ PSU. These have MSRPs of $109.99, $119.99, $149.99 and $189.99 respectively. At the time of writing only the 650W version is available to order direct from EVGA, all the others have a 'notify me' status.