Aorus P7
Gigabyte has launched the Aorus P7 RGB Fusion mouse mat. It is the firm's first such product but I think it is the third RGB mouse mat we have featured in the HEXUS news pages (previously we have reported upon the Cooler Master and SteelSeries RGB mouse mats).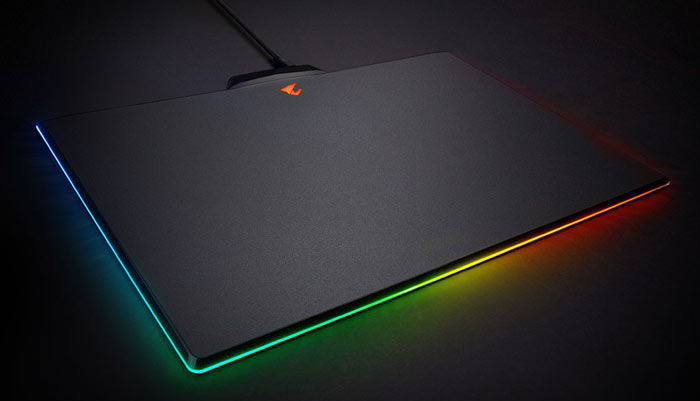 The key feature of the Aorus P7 is, of course, its RGB lighting frills. It uses Gigabyte's RGB Fusion standard to match and sync with the rest of your RGB Fusion compatible desktop components and accessories. On your desk Gigabyte naturally sees the Aorus P7 as a great companion for its own branded RGB Fusion enabled keyboards and mice. Whatever your setup, you can use the Aorus Engine to custom make unique patterns and light reactions around the edges and through the Aorus logo of the mat - there are so many choices.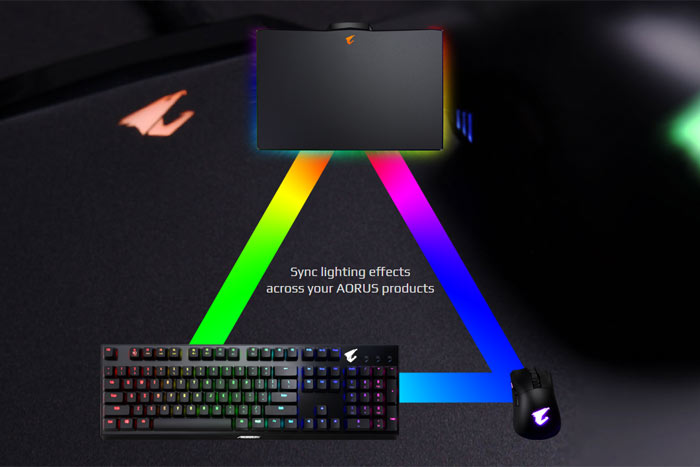 As the P7 required power and connectivity for its RGB LED functionality it connects to your PC via a micro USB port. Gigabyte supplies a 2m long braided cable that isn't captive but detachable. That's usually a good choice for longevity and portability.
Onto the core functionality of the Aorus P7, its use as a mouse mat. The surface area is described as "hard, microtextured," which should be good for optical mouse sensors to track with speed and accuracy. Hopefully it is hardwearing too. Keeping this mouse pad firmly in place is a non-slip rubber base. Overall the device measures 350(L) x 240(W) x 4.60-7.20(H) mm and it weighs in at 420g.
Pricing and availability has yet to be confirmed by Gigabyte but a quick search found the Aorus P7 listed at 49 Euros.
Aorus RGB Memory
HEXUS reported upon the unveiling of the 16GB Aorus RGB DDR4 kit at Computex last month. This was a notable release as it is Gigabyte's first memory module product. At the time of writing there was no product page on the Gigabyte / Aorus website but one has now been uploaded. Furthermore, the memory kit got a press release yesterday.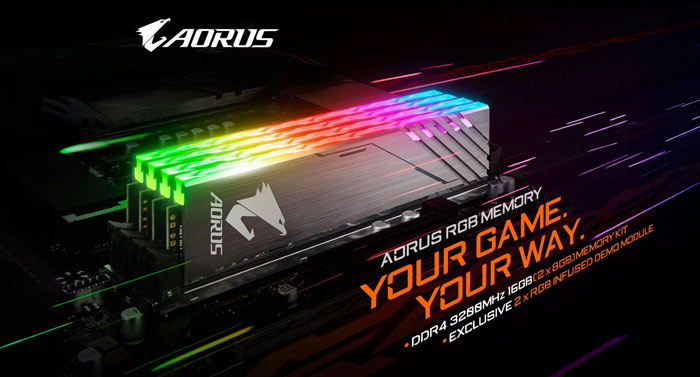 To recap, there is just one 16GB kit for sale and it consists of two x 8GB DDR4-3200MHz DIMMs with 16-18-18-38 (XMP 3200MHz) timings, and 1.35V. Gigabyte uses Samsung B-Die memory ICs. Unusually this is a 4-piece kit, with two dummy modules giving you maximum RGB in your 4-slot system.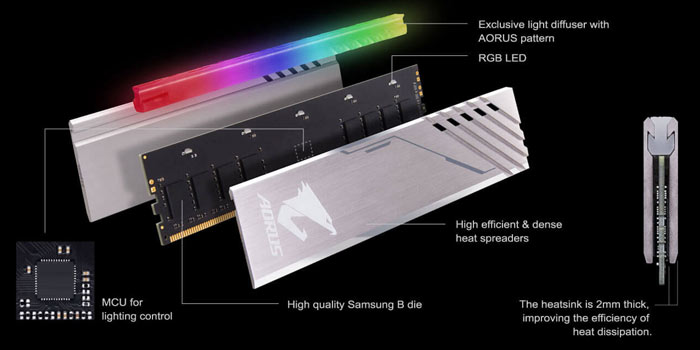 Gigabyte says that the 16GB Aorus RGB DDR4 kit has started to ship and will be available shortly. Previously we were told pricing would be $229 and buyers get a lifetime warranty on the memory.