Samsung has just announced an interesting new feature coming to its 2019 range of Smart TVs. Dubbed simply 'Remote Access' the feature allows you to wirelessly connect to your PC, tablet or smartphone. If you are interested in using this feature with your PC then you might be happy to learn you will be able to connect a keyboard and mouse to the Samsung Smart TV for full control.
"With Remote Access, consumers will be able to easily access various programs, apps and cloud services installed on multiple connected devices directly through their TV screen," said Hyogun Lee, Executive VP of Visual Display Business at Samsung Electronics. The firm says that without the need for an HDMI connection you can control your on-screen content and do things like surf the web or play games on the big-screen living room TV. In another sentence Samsung hints at some limitations, as Remote Access works with "compatible programs and apps" - with emphasis on the word 'compatible'.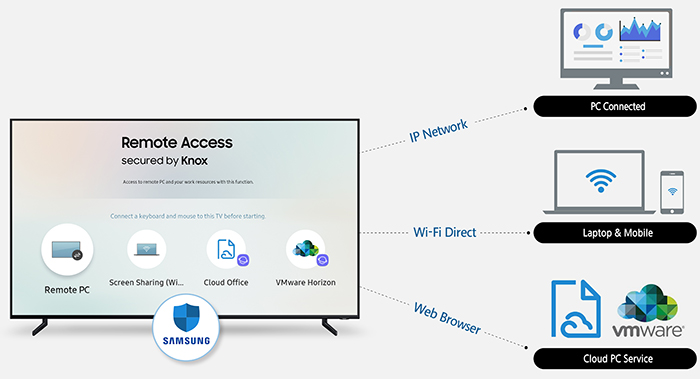 Additionally, Remote Access can deliver a web browser-based cloud office service. Thus users can access files and work on documents stored by cloud services directly on their Smart TVs.
The technology behind 'Remote Access' is from well known virtualisation software firm VMWare, a subsidiary of Dell. Samsung explains that you can connect its new 2019 Smart TVs to your PC, laptop, or mobile device anywhere in the world thanks to VMware Horizon, a Virtual Desktop Infrastructure (VDI) solution. VMWare has a dedicated page for its latest Horizon 7 product, which is likely to be closely related to Samsung's Remote Access.
With any such connectivity, security is very important and Samsung has integrated its proprietary Knox security technology into its Remote Access features to help make it as secure as possible. Samsung and VMWare pledge to continue to work together to develop intuitive and productive user experiences for remote working scenarios.
We expect to hear and see more about Remote Access, hopefully with some demos, at the CES 2019 next month.