As with most of the components that go inside and accompany our PCs there's stiff competition in the display panel market. The leading players in display panels are none other than LG Display and Samsung, better known recently as fierce smartphone rivals, plus another company called AU Optronics. As part of a recent market roundup on what to expect for 2016, TFT Central has poked around looking at what panels all these manufacturers have in their production roadmaps for 2016. It has turned up a few with rather interesting specifications.
Going in alphabetical order, AU Optronics has plans to produce new 30-inch and 35-inch ultra-wide curved panels in 2016. Its panels will be of the VA type and offer 3440 x 1440 pixel resolution and 144Hz refresh rate. TFT Central notes that this res/refresh goes beyond DP 1.2 bandwidth limitations so monitors employing the new panels are expected to come packing the upcoming DP 1.3 interface.
LG Display will be introducing more borderless neo-blade panels in a wider range of sizes. More interestingly, LG has detailed the LM375UW1 IPS panel which is a sizeable 37.5-inches and offers a 3840 x 1600 resolution. TFT Central says the resolution of this 1000:1 contrast ratio panel is significant as it provides a "perfect 2:4:1 aspect ratio," great for Blu-ray content, and perhaps a sign of 4K Blu-ray developments to come this year. With its 14ms G2G response time the LM375UW1 is probably more suitable for watching rather than interacting with on-screen action.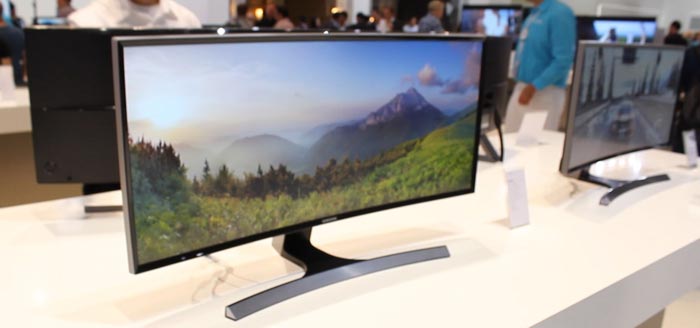 Last but not least, Samsung plans a new 31.5-inch panel with 2560 x 1440 pixels (QHD) in the curved screen radius format, with 144Hz refresh rate, for launch in Q3 2016. That sounds like it could be gaming market targeted. Samsung pushes the boat out with some further panels in development; it will be making 32:9 aspect ratio and FHD+ res monitors panels which are 41-inch and 49-inch in size. Packing in the pixels in Q3 this year, Samsung plans to release a 31.5-inch panel with a resolution of 8K4K 7680 x 4230 pixels. This high ppi monitor also features Adobe RGB colour space coverage so will very likely be aimed at the professional content creation market.