LG has already unveiled its CES 2016 monitor lineup. The Korean tech giant has revealed it has lots of visual treats ready for its CES booth including; a new 34-inch 21:9 Curved UltraWide monitor, a flat 21:9 UltraWide workstation monitor, and a pair of Ultra HD 4K monitors. In addition to the above CES 2016 attendees will get to see the LG gram 15 laptop, claimed to be "the lightest 15-inch laptop in the world".
Two 34-inch 21:9 UltraWide monitors are detailed by LG as part of its CES 2016 salvo. A curved one, the LG 34UC98, is aimed at both gamers and digital professionals. It features a curved 3440 x 1440 QHD IPS panel and offers FreeSync support. A flat 34-inch 21:9 UltraWide monitor (34UM88) will also be on show, aimed more squarely at photographers and graphic designers who require stringent colour accuracy. Both the UltraWide monitors feature Thunderbolt 2 connectors.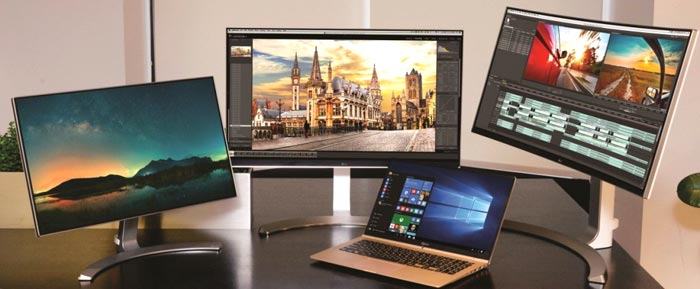 A pair of LG 27-inch UltraHD monitors are also to be on show at CES. These consist of the UD68 (gaming, with FreeSync) and the UD88 (professional, colour calibrated and profile packing) series monitors. Both these 4K display 27-inch IPS monitors feature a USB 3.0 Type-C connector.
Other monitor products name-checked by LG for space at its CES booth are; a virtually invisible bezel Infinity Display monitor model (24MP88) and the elegant ArcLine Stand.
If you like your laptops slim and light but also appreciate screen real estate the LG gram 15 (model 15Z960) might appeal. Despite packing a 15.6-inch screen the LG gram 15 is said to be of a size rivalling regular 14-inch laptops. LG goes as far as claiming it is the "lightest 15-inch laptop in the world," - it weighs just 980g. The LG gram 15 is said to be a great choice for mobile professionals and students and is powered by an Intel Skylake processor and comes with Microsoft Windows 10 pre-installed.
CES 2016 takes place in Las Vegas from 6th to 9th January 2016.