Dell has revealed a new ultra-wide monitor as part of its Ultrasharp range. The Dell Ultrasharp U3415W is the company's first curved screen monitor. As you might guess from the U34 prefix it is a 34-inch display. It offers users a 21:9 ratio wide screen with a resolution of 3440x1440 pixels. This monitor has been a long time coming with rumours of its launch as far back as a year ago.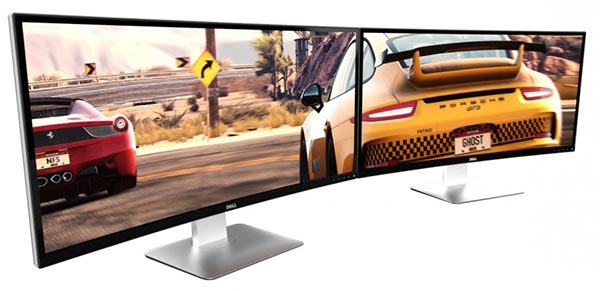 Perfect for gamers and game developers
Dell says that this new monitor is "the perfect display" for gamers. Explaining that assertion we are told that the U3415W's curvature and ultra-wide view "work together to give gamers a competitive edge, requiring less eye movement when compared to a flat panel display and enabling players to take advantage of their peripheral vision when the competition heats up." Game developers will also be delighted by the U3415W, apparently, as it provides "the ultimate canvas for enhanced productivity and creativity". I'm sure these two PC user niches aren't the only ones who would love this monitor on their desks.
Dell U3415W key specifications
Screen: 34-inches diagonal, curved display, 21:9 ratio, 3440x1440 pixels, ultra-thin bezels
Refresh: 60Hz
Speakers: dual integrated 9 watt speakers
Connections: HDMI 2.0, MHL, DisplayPort and Mini DisplayPort
Stand: fully adjustable
Dell claims it is the first to unveil a curved 34-inch monitor with the reveal of this Ultrasharp U3415W. However we did see an official release from LG detailing its curved 34-inch monitor with Thunderbolt connectivity a fortnight ago. LG's display will be on show at IFA, Berlin later this week.
The Dell Ultrasharp U3415W will become available in China in November and globally from December. We weren't provided with any pricing indications.