Samsung has announced a price for its 105-inch Samsung Curved UHD TV which was first unveiled at the CES 2014 back in January. Those who have a spare $199,999.99 for entertainment purposes will now be able to pre-order this 4K television set.
With $120K, you can get your hands on one of the first curved 105-inch 4K TVs on the market, featuring a 5120x2160 resolution, packing in 11 million pixels with its curves offering you improved viewing angles compared to a regular flat screen. The UHD TV is "made to order" and sports a metal frame with a wood-finish back.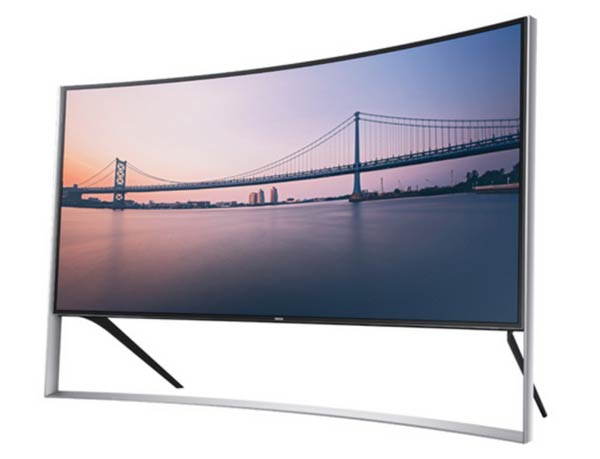 Samsung's proprietary UHD Dimming and Precision Blacks facilitate the appearance of deep blacks and brighter whites. Users can also benefit from the TV's Quad Screen Multi-Link mode, 21:9 aspect ratio, UHD Upscaling, Samsung Smart TV platform with apps, and much more.
If you were to purchase this TV set Samsung is kind enough to make available to you its "Samsung Elite Service," where a team of field engineers will be sent to you along with your purchase. The engineers will demonstrate and explain the features of the humungous device whilst also optimising it for the room and setting you decide to place it in.
"We continue to set the bar as the UHD market leader by delivering the best picture quality, design and most immersive viewing experiences in home entertainment," said Joe Stinziano, executive vice president of Samsung Electronics America in a press release. "Made for the premium entertainment lover, the 105-inch Curved UHD TV features the most advanced technology and design, a massive movie-theatre style UHD screen and a curve that creates the ultimate cinematic experience."
With Samsung promising to custom build each TV set for customers, the delivery may take around 12 weeks. Pre-orders will open this week, and although price and availability has yet to be disclosed for those residing outside the US, US$120,000 converts to approximately around GBP£70,300. So if this 105-inch telly does make it to Blighty it could cost upwards of £90K including tax.