Monitor specialist Iiyama has announced a new gaming monitor called the ProLite GB2488HSU. The firm calls it the "ultimate gaming monitor," and has designed the screen to appeal to "hardcore gamers," and e-sports erm… athletes. The headline specs of this 24-inch monitor, which are expected to appeal to the gaming community, include; a 1ms response time, a 144Hz refresh rate, a lag reducing 'Direct Drive function,' and a choice of five screen presets and ability to store three of your own.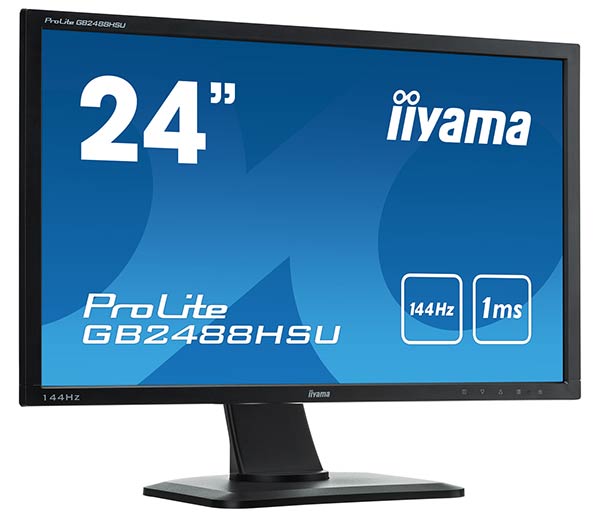 Iiyama says the ProLite GB2488HSU is ideal for FPS gamers as its 1080p TN LED panel has a very fast response time of 1ms "which ensures fast, fluid and accurate transition between the images and reduces ghosting or smearing." The 144Hz refresh rate also helps the appearance of smooth motion and reduction of motion blur.
Exclusive Iiyama monitor functionality includes 'Video Mode Adjust' which controls the hardware level aspect ratio. Iiyama's 'Black Tuner' can be used to bring out enemies lurking in the shadows. Also users have access to five factory presets including Standard, Sport Game, FPS Game, Strategy Game and Text – as well as three homebrew monitor setting concoctions.
The ProLite GB2488HSU also offers an interesting 'Direct Drive' function which allows users to bypass various in-monitor circuitry and drive the monitor more directly from their graphics card – thereby delivering "the highest frame rate and the lowest lag".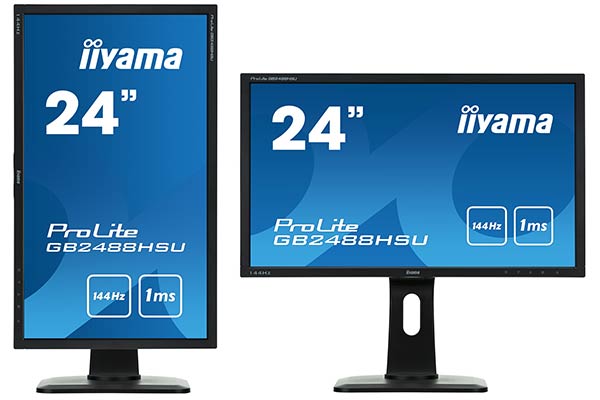 Iiyama ProLite GB2488HSU specifications:
Diagonal: 24-inch
Native resolution: Full HD (1920x1080)
Response time: 1 ms
Maximum refresh rate: 144 Hz
Signal inputs: DVI-DL, DisplayPort, 2xHDMI
USB HUB: 2 outputs (vs. 2.0)
Height adjustment: 130 mm
Warranty: 3 years on-site
Other features: VESA, speakers, headphone connector
As you can see from the above spec list the ProLite GB2488HSU also includes a good array of connections including DVI-DL, 2xHDMI, DisplayPort, USB HUB and speakers. Iiyama would also like to point out that its new 24-inch gaming monitor has an ergonomic stand which can adjust its height through a 13cm range, pivot for the best viewing angles and also swivel for portrait viewing.
Iiyama informs us that this new 24-inch 1080p monitor will be available from 13th March and will have an RRP of 319 Euros including VAT.