South Korean tech rivals LG and Samsung have both announced 105-inch curved screen TVs for the annual Consumer Electronics Show in Las Vegas in January. LG was first to boast of its large curved TV saying it will be "unveiling the world's first 21:9 aspect ratio curved Ultra HD TV" and minutes later Samsung fired its return volley boasting it will unveil the "world's first, largest and most curved 105-inch Curved UHD TV" at CES2014.
LG 105UB9
Let's look at LG's set first. The firm emailed us with specifications and details about the launch. LG said the 105UB9 "is officially the largest curved TV ever made". It also explained that this preview technology hasn't yet got a price tag or release date for consumer sales.
The LG 105UB9 has a 21:9 'CinemaScope' screen with 11 million pixels. The resolution is 5120 x 2160 pixels. LG told us that making such a large and curved LCD TV required new technology as such TVs usually use OLED panels. In particular the challenge of uneven backlighting on curved LCD panels was successfully addressed.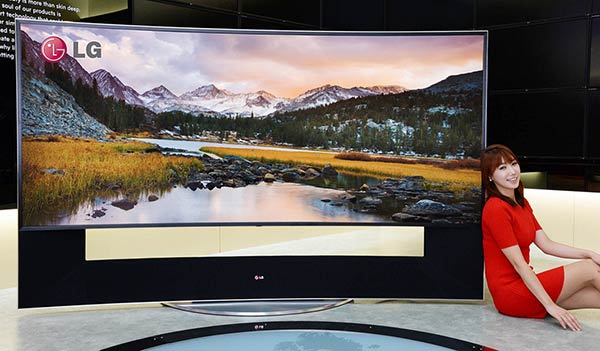 "LG Display has kept its dominant position in the display market with innovative and differentiated technologies," said Yong-kee Hwang, Senior Vice President and head of LG Display's TV Business Unit. "With a resolution of 11 million pixels, the 105-inch curved LCD panel is proof of our continued leadership in the next generation display market, offering exceptional world-class value to our customers."
Samsung 105-inch Curved Ultra HD TV
Samsung's 105-incher must be more curved than the LG model as it is one of the headlining facts the firm claims for this TV. On the Samsung Tomorrow blog the firm claims it will unveil the "world's first, largest and most curved 105-inch Curved UHD TV," at the upcoming CES. Samsung also claims a new proprietary picture quality algorithm will deliver greater colour depth and its images are extremely vivid.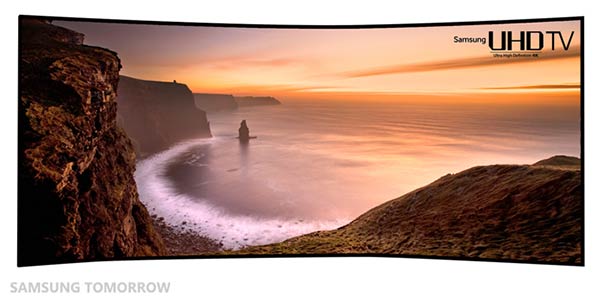 Just like LG's 105-inch TV the Samsung model uses a panel with 11 million pixels (5120 x 2160) screen resolution and a 21:9 aspect ratio. Samsung uses a special 'Quadmatic Picture Engine' for upscaling "all content in UHD-level picture quality".
"We are happy to unveil the 105-inch Curved UHD TV, the culmination of Samsung's advancements, following the world's first Curved UHD TV at IFA 2013," said HS Kim, executive vice president of Visual Display Business, Samsung Electronics. "You will experience a true curved TV optimized for consumer viewing environments at CES 2014."
Samsung's news release is a bit less informative on the tech behind its new display. However it's not long until the CES, so we should know a lot more about both these new TVs nearer that time.