LG has made announcements concerning its manufacturing of curved smartphone screens and curved batteries suitable for phones and wearable tech. LG Display's announcement came first; that mass production of a flexible OLED lightweight 6-inch panel for smartphones had started. LG Chem followed up with its announcement that it had started mass production of stepped and curved batteries, with cable batteries to follow later.
It is hoped that the new display and battery shapes available to designers can facilitate an exciting new range of smart devices to complement the invariable rectangular slab shaped devices we all now own.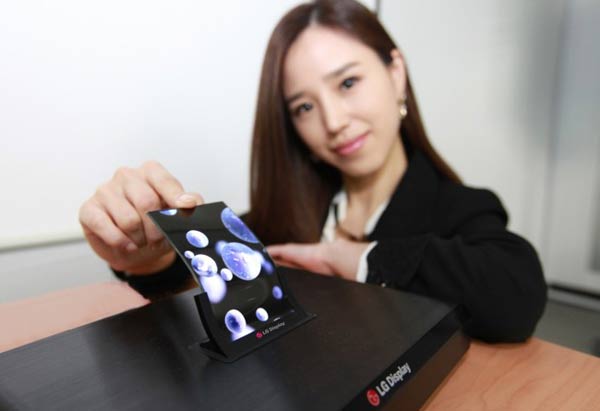 Looking at the curved display first of all, LG said that this first mass produced display panel will be a 6-inch diagonal example. The curvature is described as vertically concave and taken from a circle with a radius of 700mm (28-inches). My own rudimentary maths, including an assumption of the screen ratio, gives me a screen, which if rested face down on the table, would rise to a height of 3.8cm at the crest of its curve*. That is without the additional thickness of the other smartphone components. That's quite a curvy device...
An analyst speaking to the BBC doubted the appeal of a curved screen smartphone. David McQueen of Informa suggested LG was showing it was innovative and could stand out from the crowd but concluded that "I don't think consumers are going to be that interested by a slightly curved design". McQueen thought that other form factors, as used in wearable tech would be better suited to curved screens.
LG Chem's is heavily involved in battery technology development and today announced that it has "succeeded in breaking the tradition of rectangular shaped batteries to lead the effort to a more sustainable future by mass producing batteries of different shapes". Stepped and curved batteries are already in production, made to better use the 'dead space' available in modern gadgets.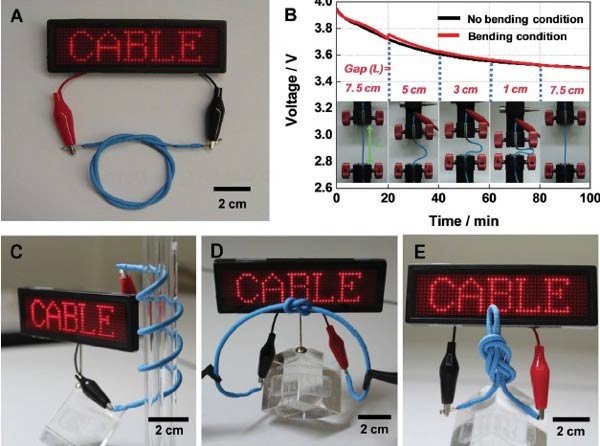 A stepped battery was actually used in the LG G2 and eliminating the 'dead space' which previous battery designs would have left vacant helped LG improve the battery life span of said device by three hours. A curved battery has just been put into production this month and will be a good match for devices with curved screens. Lastly the 'cable battery' will be truly flexible, bendable and can even be tied in a knot (see pic above). This battery will be a good match "wearable gadgets regardless of flexible figures, from necklace types to smart watches," says LG. The 'cable battery' will be available "in upcoming years," said LG, vaguely.
There are rumours of smartphones with curved displays emerging from both LG and Samsung in the coming weeks. It will be good to see some actual tech destined for the sweaty palms of users emerge from this – we have been seeing these curved screen teasers for quite a long time now.
(*Please feel free to offer any correction to my calculation.)