Samsung have one of the largest booths at the 2013 CES. The South Korean electronics giant really does need the space because it has a lot on show in Las Vegas this year. The range of Samsung kit on display includes both big and curvy TVs, computers, cameras and even Android powered fridges.
BK Yoon, president of Samsung's Consumer Electronics Division explained the company vision for 2013; "From motion and voice control in TVs, to 10-point multi-touch screens on tablets and smartphones, we have created new, more human ways for people and devices to interact. This year, our goal is to help people discover a world of possibilities. We aim to delight them, bringing not just what they expect, but what they'd never dreamed was possible."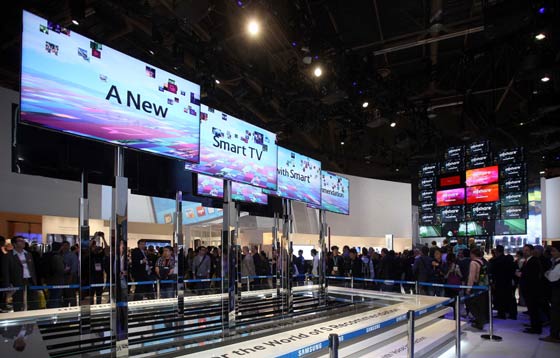 Samsung Smart TVs
Two new TVs on show by Samsung are particularly eye catching; the eye popping Samsung Super Large-size TVs and a curved OLED TV, which is one of those "world's first" things that have popped up quite a lot recently.
The Samsung Super Large-size TVs presents viewers with an "unreal size, unreal experience" and is 110 inches in diagonal. This TV set will be available by the end of 2013. These super sized models will all feature high contrast "precision black" screens and be controlled by voice and gestures. For fluid response and Smart TV functionality these TVs have quad core processors. The Telegraph has a video of one of the 100-inch beasts here. An official Samsung picture of it is below.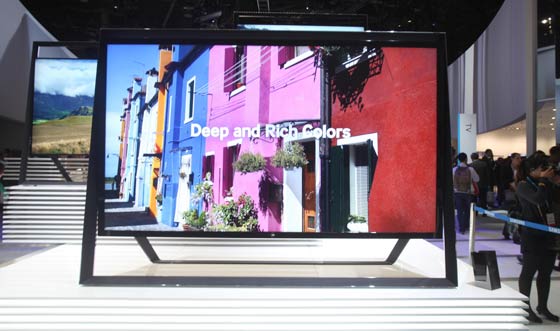 That TV was eye catching for its size but Samsung also showed off a TV which will catch your eyes because of its gorgeous curves. Samsung say that this curved screen gives pictures more panoramic depth and a more life-like appearance. Also this curved OLED screen supposedly presents a more comfortable experience for the human eye...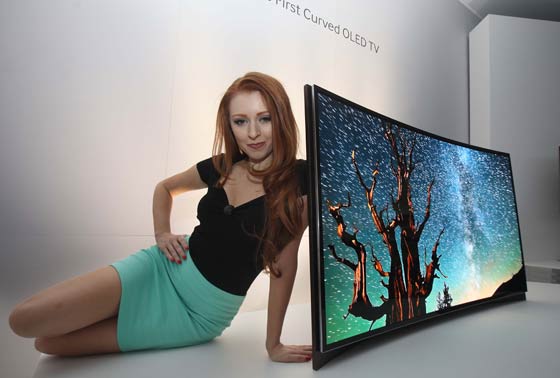 HS Kim, executive vice president of Visual Display Business, Samsung Electronics said "Samsung is dedicated to developing innovation television solutions, beyond what consumers could ever expect, or could even imagine. We will continue our tradition of developing Samsung TV innovations by steadily introducing new TV technology that helps enhance the lives of users, even beyond the World's First Curved OLED TV."
Samsung's PC lineup
Samsung unveiled the Series 7 Chronos laptop and the portable Series 7 Ultra Notebook. The Series 7 Chronos sports a 15.6-inch full HD display which offers 10-point multi-touch capability. It's just 20.9mm thick and can run for 11 hours on battery power. The Series 7 Ultra is an ultra-slim design. Its chassis is made of aluminium and the 13.3-inch full HD screen again offers 10-point multi-touch. Choose from i5 or i7 processors and up to 256GB of SSD storage. This highly portable computer has battery life of about 8 hours. Both the new Samsung notebooks come with Windows 8 installed and you can read more about them within Samsung's press release.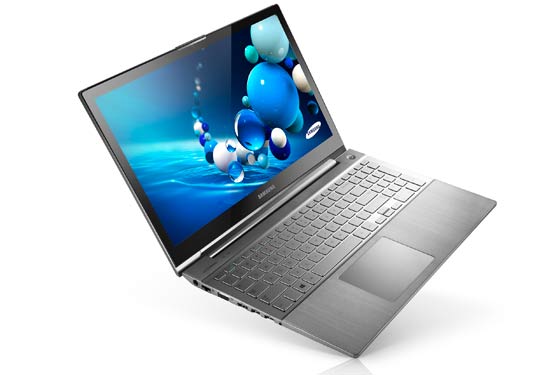 Samsung Cameras
Samsung has released a number of new compacts but seems to be most proud of the NX300, the new flagship model in its successful NX series. It's a compact system camera with a brand new 20.3 Megapixel APS-CMOS sensor. Simon Stanford, Vice President, Samsung UK and Ireland, said "The NX300 builds even further on this illustrious heritage. Not only does it deliver incredible speed and accuracy through advanced photographic features, but it is truly built around the user, with upgraded SMART Camera functions making shooting and sharing both easy and seamless. We are also very proud to introduce the first one-lens 3D system alongside the NX300, opening up a whole new world of 3D photography and video recording for consumers everywhere."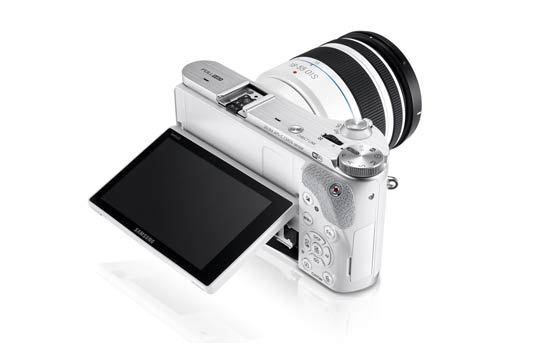 As Mr Stanford mentions, there is a new 2D/3D lens available for the NX300. This 45mm lens is "the world's first one-lens 3D system for a consumer camera". Users will be able to take 3D stills and movies with this addition to their kit bag. Read more about the NX300 and 3D lens in Samsung's press release.
Samsung connected homes
Samsung's T9000 LCD Refrigerator has a 10-inch touchscreen and runs a version of Android. The fridge comes pre-loaded with the Evernote cloud based note-taking and organisation app. PC Pro suggest that when you run out of some refrigerated items you just write a note on the screen which gets added to your smartphone shopping list! The American style double-door fridge has a capacity of 25.5 cubic feet for chilled food and 6.1 cubic feet for freezing.