It's official, folks, Samsung has branded its flexible OLED technology as 'YOUM' and is now entering mass production, with sights set on products due to launch later this year.
The firm claims that this new display alternative will be thinner and lighter than current AMOLED offerings, which are already typically lighter than traditional LCD-TFT options. This advancement is made possible by moving away from glass substrates, towards thinner film-based offerings.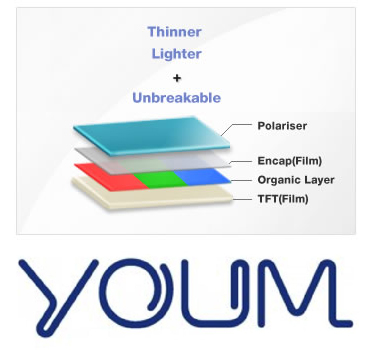 YOUM consists of only four layers, the organic layer, containing the display's LEDs, sits on top of a flexible TFT film and is secured by a further film above the organic layer. At the very top is a polarising layer.
This approach doesn't differ significantly from current OLED offerings, only that the two layers surrounding the organic one have been replaced with a thin film, as opposed to a glass substrate.
The result is a thinner and lighter display that, in theory, should be unbreakable.
A traditional LCD offering consists of six layers and features glass substrates, creating a typically heavier and thicker display, whilst non-flexible OLED offerings feature only four layers, however still maintain a significant thickness and weight, again, due to the use of glass substrates.

The removal of glass from the equation takes away the display's brittle properties and allows it to behave like plastic, known for being thin, lightweight, flexible and strong. Whilst we've recently seen flexible e-paper solutions, we suspect that Samsung will not quite yet be looking at folding displays and, instead, will focus on YOUM's effective impact invulnerability and the potential for minor and fixed-position bending, such as wraparound displays that can encompass more of a device's surface, even over the bezel itself.
Shatter-proof doesn't necessarily mean scratch-proof and so we wonder what kind of screen protection, if any, Samsung has in mind. Being film-based, perhaps Toray's new self-repairing technology will prove to be an attractive prospect. We also wonder if YOUM will be making it into the GALAXY S III, playing a role in the late release of the device.
Whilst we suggested Samsung is unlikely to be thinking fold-up displays at this stage, it's worth taking a moment to consider that this technology could enable a future where one sits down with a 10-inch netbook and unfolds a 20-inch-plus screen. An exciting prospect indeed.