Gigabyte has announced that its new Aorus CV27Q Tactical Gaming Monitor is its first to feature Black Equalizer 2.0 technology. This is a 27-inch QHD (2560x1440 resolution, 16:9 ratio) 1500R curved VA panel equipped monitor capable of a max 165Hz refresh and 1ms (MPRT) response time.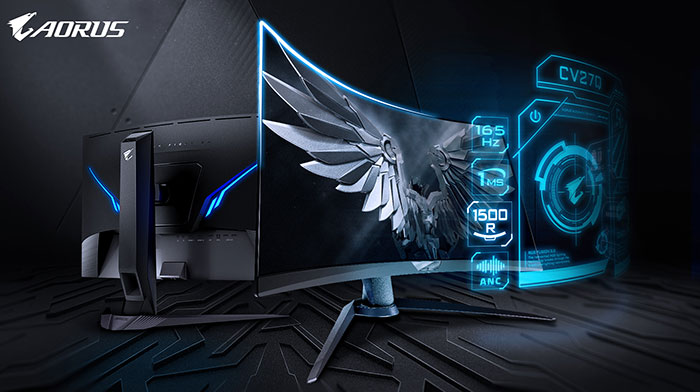 The new Black Equalizer 2.0 tech in this monitor sounds like a refined local area dimming technique. The Gigabyte press release about the new Aorus CV27Q Tactical Monitor mentions that the new tech works by "dividing the screen into 1,296 subareas and equalizes each subarea individually, so gamers can see clearer the dark areas without having overexposure in the bright areas." Either this is a different tech to Black Equalizer 1.0 (which I thought was just a colour curve adjustment setting) or it simply features more local dimming zones. Local dimming isn't just good for games, it also works well for improving TV and film viewing experiences.
Another feature that Gigabyte wants to highlight with regard to its newest 27-inch gaming monitor is the "exclusive Active Noise Cancelling (ANC) feature," of its Aorus Tactical Monitor range. It says that thanks to the special IC design with microphone array, ambient noise is reduced, making communication with your teammates clearer. The new ANC 2.0 is present here. It features 120 dB signal-to-noise-ratio (SNR) and supports high impedance headphones up to 600 ohm(Ω) too.
Other features of the CV27Q worth mentioning are that its 1500R curve is said to be the best choice to match the curvature of the human eye. Furthermore, this screen offers 90 per cent DCI-P3 and an 8-bit panel. AMD gamers may appreciate the Aorus CV27Q Tactical Monitor's Radeon FreeSync 2 HDR technology support. The LFC (Low framerate compensation) techniques which are part of this spec are said to be great for smooth gaming quality.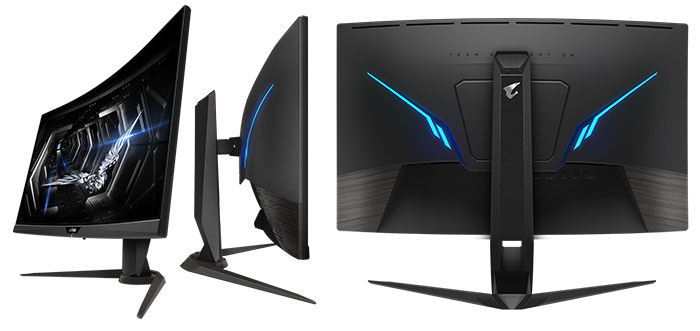 Turning to the physical features of this gaming monitor, it has LED lighting at the back and sides, a PSU is built-in so you don't see a power brick, and the metal stand supplied is adjustable in all three dimensions.
We don't have availability and pricing info right now, but you can read more about the CV27Q on the official product pages.
Aorus FI27Q/FI27Q-P monitors gain G-Sync Compatible certification
In another Aorus gaming monitor news snippet, the recently released Aorus FI27Q/FI27Q-P monitors are now Nvidia G-Sync Compatible certified. These monitors are also VESA Display400 standard certified, offer 10-bit colour panels and 95 per cent PCI-P3 colour.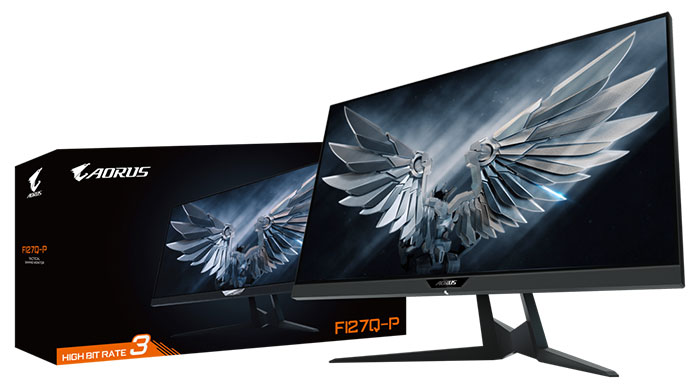 Black Equalizer 2.0 tech is present in the Aorus FI27Q/FI27Q-P gaming monitors too, as are the usual bevy of Gigabyte gaming niceties like ANC technology, Aim Stabilizer, GameAssist, hardware information Dashboard, and OSD Sidekick.