Samsung is often seen pushing the boundaries in the electronics industry, including screen technologies. It leverages its super modern fabrication facilities and design ambitions to produce some ground breaking display products such as The Wall earlier this year, and the 49-inch 32:9 Grand Circle display last year, and its smartphone displays are very well regarded too. Inside these products you will find the newest tech minimising screen and bezel thicknesses and upgrading the visual quality, most recently with its QLED display tech.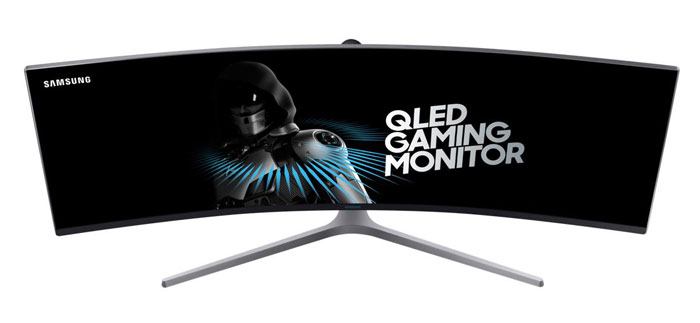 A couple of days back TFT Central revealed that Samsung is concentrating its display development on four key areas; Ultrawide formats, curved panels, quantum dot powered colour gamut enhancements, and faster refresh rates. It backed up this assertion by highlighting a new 49-inch sized VA panel scheduled for production around September 2018.
Going back half a year ago we saw Samsung launch the CHG90 QLED Gaming Monitor at Gamescom. This 49-inch diagonal screen equipped offering was heralded as "the world's largest QLED gaming monitor". It sported a super ultra-wide 32:9 aspect ratio with its resolution of 3840 x 1080 pixels. This curved HDR screen had a max 144Hz refresh rate and supports FreeSync 2.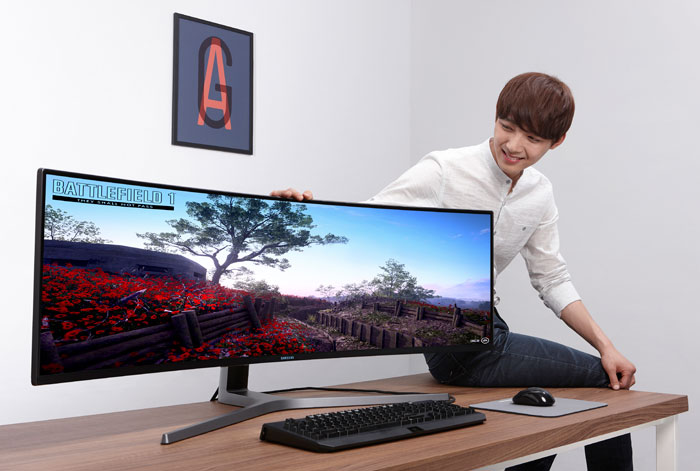 Samsung CHG90
The new panel in development sounds very much like it builds upon the appeal of the CHG90. It boosts the resolution further to 5120 x 1440 pixels (DQHD = Dual quad HD resolution) and it will have the same 3-side frameless design, and 1800R curvature seen in the CHG90. There's only one step backwards - it boasts a maximum 120Hz refresh rate, a little slower than last year's 3840 x 1080 display.
Providing attractive solutions at lower price points than the halo product outlined above, Samsung will also start production of a 43.4-inch VA panel with 3840 x 1200 resolution (DWUXGA), with a 3-side frameless design, 1800R curvature and support for a max 144Hz refresh rate. In the 34-inch space there's a new 3440 x 1440 @ 144Hz VA panel in the works, meant to replace the current 100Hz offering. Lastly, as soon as July, Samsung will begin production of a 31.5-inch curved VA panel with 3840 x 2160 Ultra HD resolution, wide colour gamut, and 120Hz maximum refresh rate.