Today, monitor specialist AOC has introduced a trio of new gaming monitors. The new AOC G90 series are aimed at the mainstream gaming market but all boast a 3-sided frameless design and AMD FreeSync technology, Flicker Free and Low Blue Light technologies, and built in stereo speakers, among other attractions. AOC's new trio consists of an entry level 24.5-inch monitor, plus better specced screens at the same size, and at 27-inches in diagonal.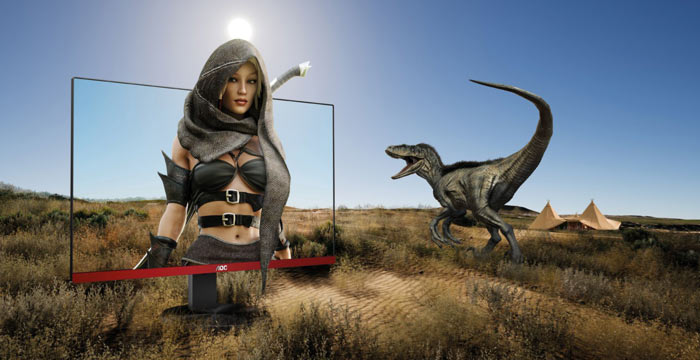 The three models are the 24.5-inch AOC G2590VXQ and AOC G2590PX, and the 27-inch AOC G2790PX. These are all 1080p TN panel equipped monitors with 1ms response times. At the cheaper end the G2590VXQ only offers a FreeSync range of 30-75Hz while its pricier stablemates offer a broad 30-144Hz. The other immediately noticeable difference at the cheap end is that there is no USB 3.0 hub included in the monitor, and it comes with a 'simple stand', rather than an ergonomic one (with height adjust, swivel, tilt and pivot) – but all three monitors can be easily removed from their stands (screw-less) and work with VESA compatible alternatives.
Specific gaming features shared by the trio include AOC Low Input Lag Mode and AOC Shadow Control. The former is said to bypass monitor internal video processing for even more responsive gameplay, and the latter lightens overly dark screen areas and darkens bright parts without affecting the rest of the screen.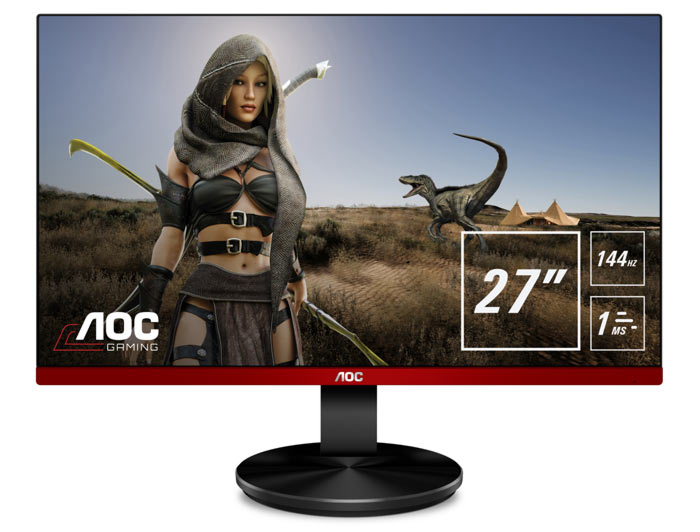 The AOC G2590VXQ will become available in January 2018, and the AOC G2590PX in February 2018. Meanwhile the 27-inch AOC G2790PX is already in stores, according to the email we received this morning from AOC. Product MSRPs are £159, £249 and £309 respectively.
Model

G2590VXQ

G2590PX

G2790PX

Display

24.5″ (62.2 cm) TN
@ 75 Hz

24.5″ (62.2 cm) TN
@ 144 Hz

27″ (68.6 cm) TN
@ 144 Hz

Resolution

1920 x 1080

1920 x 1080

1920 x 1080

Sync technology

FreeSync
(30-75Hz range)

FreeSync
(30-144Hz range)

FreeSync
(30-144Hz range)

Connectors

2 x HDMI
1 x DisplayPort
1 x VGA
Audio out

2 x HDMI
1 x DisplayPort
1 x VGA
USB 3.0
Audio out

2 x HDMI
1 x DisplayPort
1 x VGA
USB 3.0
Audio out

Features

3-sided frameless
Simple stand
Stereo speakers
1 ms GtG response time

3-sided frameless
Ergonomic stand
Stereo speakers
1 ms GtG response time

3-sided frameless
Ergonomic stand
Stereo speakers
1 ms GtG response time

Launch in Europe

January 2018

February 2018

December 2017

MSRP

£159

£249

£309