AOC looks to have put the pedal to the metal, launching several monitors this week. Earlier in the week HEXUS reviewed the professional premium 27-inch IPS Q2790PQU monitor. This was shortly followed up by news of the affordable all-rounder 31.5-inch QHD (2560 x 1440 pixels) Q3279VWF which uses an MVA panel. Then, a couple of hours ago, a new press release concerning the portable 15.6-inch USB-C ultra-slim IPS monitor, the I1601FWUX, arrived in my email.
AOC's 31.5-inch Q3279VWF monitor
AOC aims to bring "1440p to everybody" with the new Q3279VWF. Moreover, it will do so using a 31.5-inch MVA panel with FreeSync support, a 5ms response time, and an ultra-slim stylish design with an RRP of just £249.
As AOC says, FHD has been a standard for years but seems rather pixelated on larger monitors. Considering pixel density measurements, the new Q3279VWF offers 93.24 PPI which compares favourably with a 24-inch FHD monitor which offers 91.79 PPI.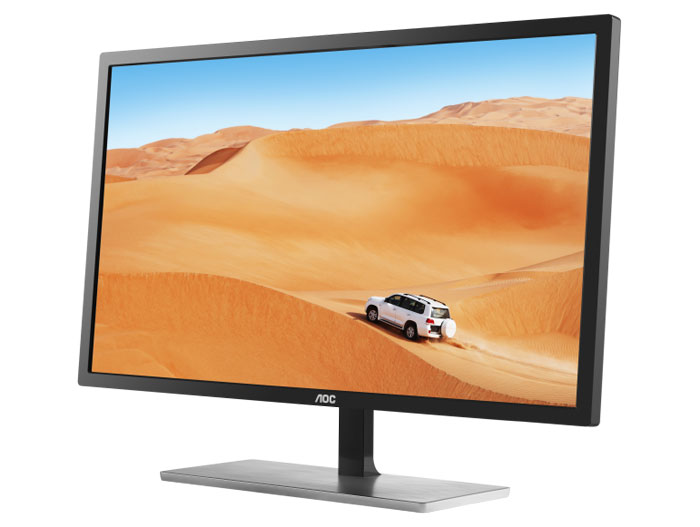 AOC's MVA panel has real 8-bit colour depth + FRC (Frame Rate Control), resulting in the perception of 1.07 billion colours, claims the monitor maker. Thanks to AOC's WCG (Wide Colour Gamut) technology, the Q3279VWF can cover 88 per cent of the NTSC colour gamut. A 3000:1 static contrast ratio is listed in the specs.
Looking at refresh rates, the monitor will run at a standard 60Hz but with compatible graphics hardware it can FreeSync at 48-75Hz via DisplayPort and HDMI (according to AMD's FreeSync technology info page Monitors section).
Users will benefit from Flicker-Free technology, wide viewing angles, and a stand that is adjustable for -2/+21.5° tilt, and 90° pivot. Connectors include; DP 1.2, HDMI 1.4, DVI and VGA.
The AOC Q3279VWF has an RRP of just £249 and comes with a three year warranty. It will become available next month.
AOC 15.6-inch I1601FWUX portable monitor
AOC has announced a 16-inch class USB-C Monitor (I1601FWUX), with ultra-slim IPS panel "for extreme portability". Thanks to the next-gen connector, users don't need to connect a separate power cable / monitor cable – everything is handled via USB-C.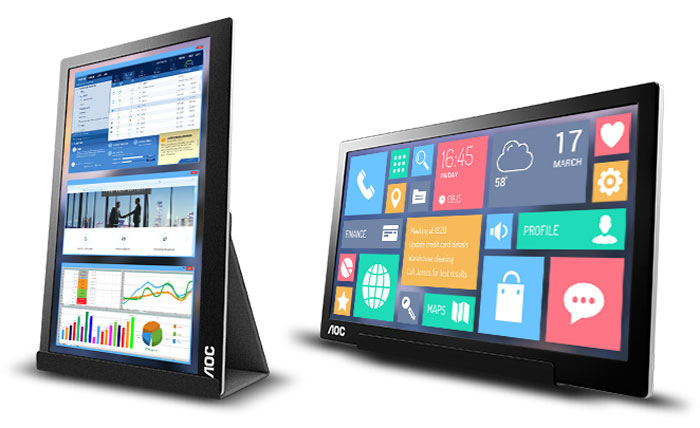 Pondering over the specs, we note the following highlights:
Screen: 15.6-inch IPS panel
Resolution: 1920x1080 pixels
Aspect ratio 16:9
Brightness: 220 cd/m²
Refresh: 60Hz
Response time: 5ms
Colour depth: 262K
Power consumption: 8W (or 0.5W in standby)
Size: 376.2x235.2x8.5mm
Weight: 824g
Other features you might be interested in are that the screen offers Low Blue light, a Smart UI to adjust USB monitor via PC software, a durable metal alloy chassis, and an integrated fold out kickstand. It comes with a smart cover case and USB Type-C cable in the box.
If you are interested in the AOC I1601FWUX, it is already for sale on Amazon.com at $189.99.