Causing significant interest at CES 2008 has been Alienware's prototype curved monitor that we first detailed here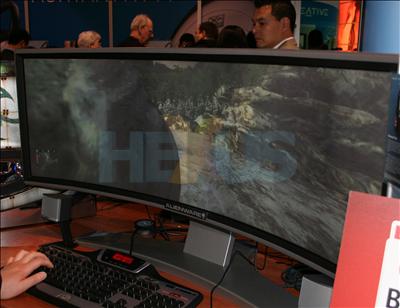 Here it is in all its curvaceous glory. Speaking to a representative, we learned that it won't be available until 2H 2008, sadly,

In terms of size, it's 41in wide, 13in high, and measures 43.4in diagonally; make sure you have enough room around the sides of your desk to accommodate it.

The majority of new games support the resolution, including Crysis; World of Warcraft; Call of Duty 4 and Unreal Tournament.

The video scales to fill in the detail and imagery that you wouldn't normally see, and whilst watching someone play Crysis with so much lateral viewing was a little strange to begin with, you can really appreciate the extra screen real-estate. Having no gaps in the middle - a la multi-monitor setups - was also nice, too.

The image appeared to be smooth at most times and there was no evidence of blurring or smearing during frenetic sections, as far as this hack could tell.

However, look closely at the above image and you'll see that four lines run down the display. These lines are produced by the four LED DLP projectors in the panel and will be eradicated in the final design.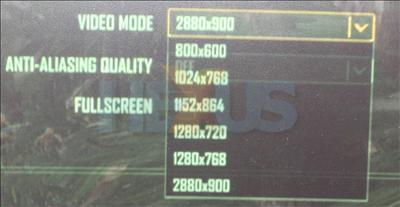 The 2,880x900 resolution equates to around 2.6MP, so not much more than a regular 24in 1,920x1,200 monitor, but you'll need a serious graphics subsystem to play Crysis at a reasonable frame-rate.

We'll bring you more tech-related details as soon as we have them.

All HEXUS CES 2008 content