Only a prototype right now but we can always hope

God bless the folk at Alienware for they look to truly know what gamers desire. A new display, pictured below, contains no less than four DLP rear-projection screens and offers a whopping resolution of 2880x900.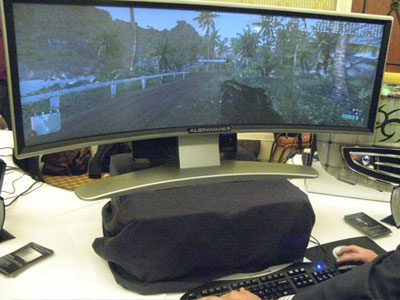 It's over three feet wide and curved to give that feeling of surround sound image. What gamers will really want to know, though, is the response time and Dell subsidiary Alienware claims it's 0.02 milliseconds - way faster than an LCD panel. Shown running Crysis at CES, the display looks nothing short of stunning. Faint seams between the four displays within can be seen but Alienware says that they will be gone by the time the product is ready for launch.
No word on dates or pricing but take our advice, start saving now.