Samsung will shortly unveil a new kind of display, at the Society for Information Display (SID) Display Week 2017, which kicks off tomorrow in LA. The star of the show, for Samsung, will be a 9.1-inch stretchable organic light-emitting diode panel, reports The Korea Herald. This stretchable display is the most flexible yet, more so than bendable, foldable and rollable varieties and will give greater latitude to device and accessory designers.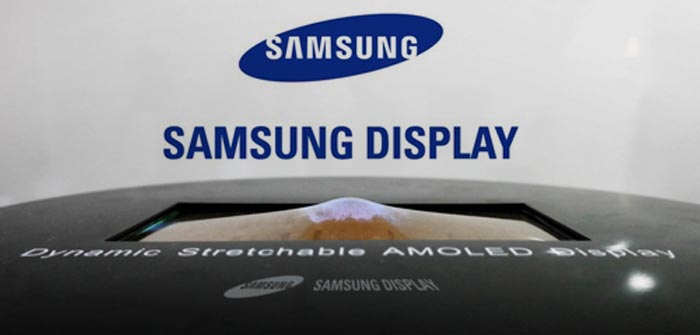 A Samsung Display spokesperson told the source that "While current flexible OLED is able to be transformed in only one side, this stretchable OLED can be transformed - whether curved, bended or rolled - in both sides, above and below". It is claimed that the display can be indented by up to 12mm and revert back to its original shape without issue. Have a look at the example image from Yonhap above, for an example of the OLED display in action.
5-inch glassless 3D OLED
As well as the above 9.1-inch OLED display, Samsung will be showcasing a 5.09-inch 'glassless three-dimensional OLED'. With this smaller 3D display users will see any displayed image differently based upon their viewing position. It is expected to be used for 3-D pop-up books, 3-D games and virtual reality devices.
2-inch 4K display
Last but not least, the Korea Herald reports that a tiny 1.96-inch display with a UHD resolution of 3840 x 2160 pixels, and a pixel density of 2250ppi, will be revealed by Samsung. This very high pixel density panel is meant for close-to-the-eye VR, AR and holographic devices/purposes.