Dell has readied a quartet of UltraSharp monitors, one of its newest AiOs, and the Dell Canvas for exhibition at the National Association of Broadcasters (NAB) 2017 show, opening in Las Vegas from tomorrow. Perhaps the most interesting product, not seen before, is the new Dell UltraSharp UP2718Q 27-inch 4K HDR Monitor - the first from Dell to meets the HDR10 standard, with UHD Alliance Premium Certification.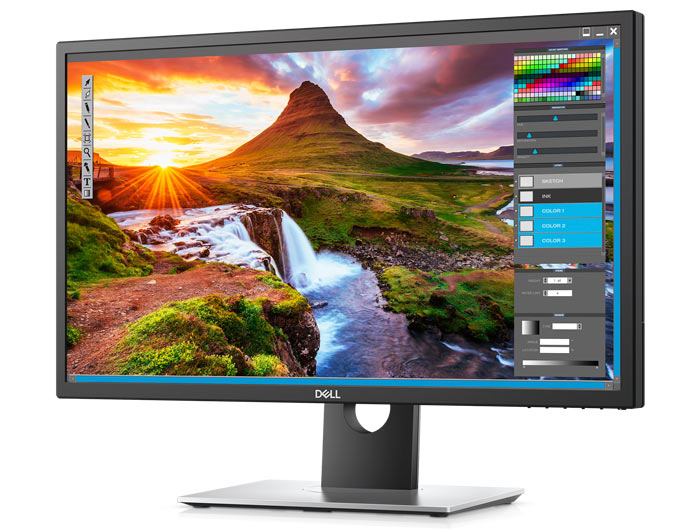 The new UP2718Q, pictured above, boasts impressive colour reproduction specs. According to Dell its 1,000 nits peak brightness, bright whites, and deep blacks make this monitor "an ideal choice for video editors working on colour-critical post production". Furthermore you have Dell PremierColor which features 100 per cent Adobe RGB, 100 per cent sRGB, 100 per cent REC 709, 97.7 per cent DCI-P3 and 76.9 per cent REC2020. Each mode is colour calibrated in Dell's factory but can be customised / profiles saved using a plethora of parameters. There's an optional colorimeter available to use alongside the Dell UltraSharp Calibration software to provide the best accuracy.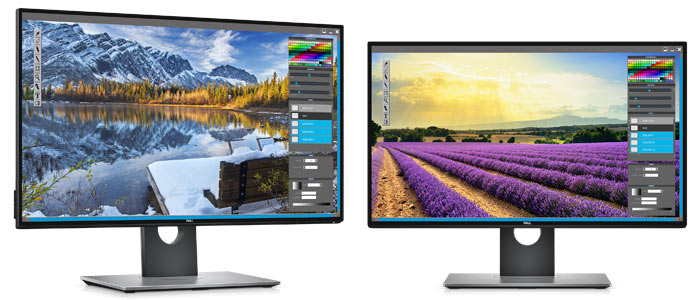 In addition to the UltraSharp 27 4K HDR Monitor with HDR10 display, Dell is showcasing a pair of its InfinityEdge design displays aimed at consumers. It will be making both 25- (U2518D) and 27-inch (U2718Q) InfinityEdge displays (pictured above) but they won't feature such wide colour gamuts or HDR visuals. This is reflected in the much lower prices I think. Dell didn't provide much else in terms of specifications for these monitors but they do both feature flicker-free screens with ComfortView
The final monitor featured at NAB 2017 was in the HEXUS news pages about a month ago. The Dell UltraSharp 32 Ultra HD 8K will be on display at the show and, as stated previously, this is now a purchasable product - subject to very deep pockets.
Pricing and availability
Dell UltraSharp 32 8K Monitor (UP3218K) is available on Dell.com in the U.S. for $4,999.99.
Dell UltraSharp 27 4K HDR Monitor (UP2718Q) will be available May 23 on Dell.com in the U.S. for $1,999.99.
Dell UltraSharp 27 4K Monitor (U2718Q) will be available mid-July on Dell.com in the U.S. for $699.99.
Dell UltraSharp 25 Monitor (U2518D) will be available mid-July on Dell.com in the U.S. for $499.99.