According to industry sources speaking to TFT Central (via PCGamer), Samsung has some extremely wide, and curvy, monitors on the way. Two particularly wide monitors are described by the journal; one is a 49-inch 32:9 display with a 3840 x 1080 resolution, described as double full HD or DFHD panel, the other is a 44-inch 29:9 aspect ratio screen with a 3840 x 1200 resolution. Both use VA panels in 1800R curvature dubbed Samsung 'Grand Circle' format.
Samsung 49-inch 32:9 Grand Circle display
This mega-wide screen is effectively the same as two 27-inch 1080p curved monitors put together - without any unsightly bezels in the centre of such a vista. Reports of a similar monitor had been previously published in January by TFT Central, so its re-appearance looks to be a positive indication that this could be a shipping product.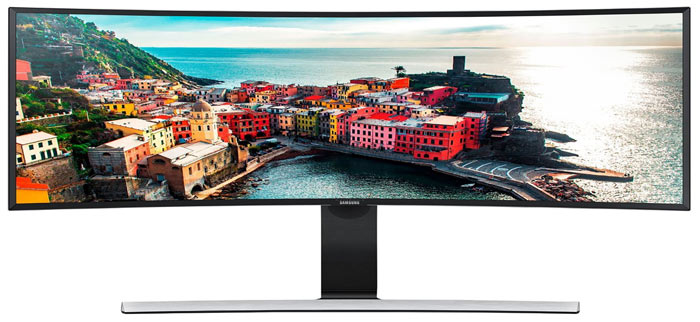 Tech specs of this DFHD monitor include; a 3840 x 1080 resolution screen with 2:9 aspect ratio, 3-side frameless design, 1800R curvature panel, VA panel, 5000:1 static contrast ratio, support for 144Hz refresh rates and either AMD FreeSync or Nvidia G-Sync technologies. Mass production of this curvy 'Grand Circle' screen will begin in September, says the source.
Samsung 44-inch 29:9 Grand Circle display
This smaller screen packs a panel with a higher resolution than the one above. Its 44-inch VA panel has a 3840 x 1200 resolution. It is described as a double 24.7-inch display by the source. Similar to the above 49-incher, it offers a 5000:1 contrast ratio, 1800R curvature, 8-bit colour depth and a 3-side frameless design.
Both 60Hz and 144Hz versions of this monitor are said to be on the way - again you are looking at September 2017 for the start of mass production.
Lastly, TFT Central got word on another 1800R VA panel equipped monitor. This example is a 40-inch screen with a regular FHD resolution display, a 3000:1 contrast ratio, and 8-bit colour depth. Production is said to start in August.
Are HEXUS readers excited by the prospect of the above 'Grand Circle' displays hitting the market later this year?