Gigabyte has begun a new promotion which applies to its G1 Gamer range of motherboards. Buyers of select G1 Gaming motherboards qualify for up to 5 years warranty, direct manufacturer RMA (including advance replacement), and up to £75 credit (€100) to upgrade to a next generation Gigabyte motherboard in the future. The deal is limited to Europe, specifically Austria, Germany, Ireland, Switzerland, and the United Kingdom, and will end on 31st December 2015.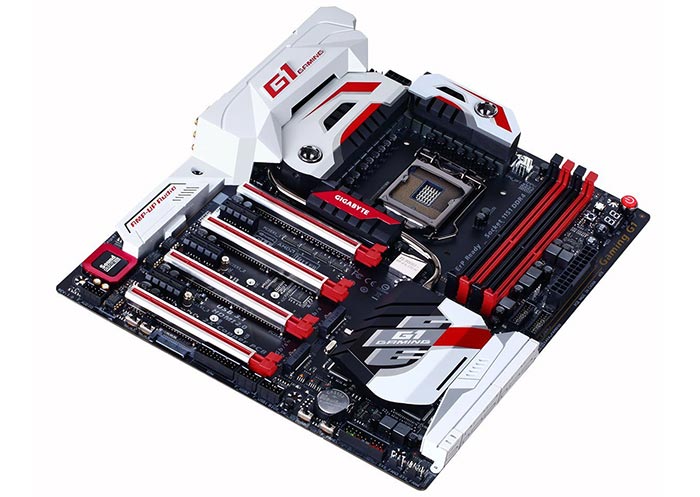 This new promotion is designed to show that Gigabyte is "not just focused on the excellent quality of our products, but also top grade customer service," said the company in a press release. Timmy Huang, Western Europe Managing Director at Gigabyte said that the new G1 Gamer Packs offers customers direct RMA service, extended warranties and next-gen technology bonuses – all for free, during the qualifying period.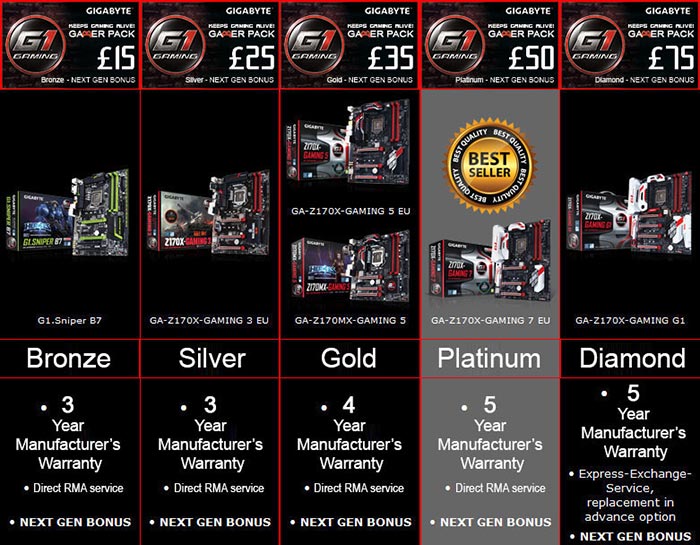 To make it easy to see which motherboards get what 'Packs' Gigabyte has put together a dedicated G1 Gamer Pack promo page, including the graphic embedded above. As you can see, the motherboards included in the promotion are the GA-Z170X-GAMING G1, GA-Z170X-GAMING 7-EU, GA-Z170X-GAMING 5-EU, GA-Z170X-GAMING 3-EU, GA-Z170MX-GAMING 5, and the G1.Sniper B7.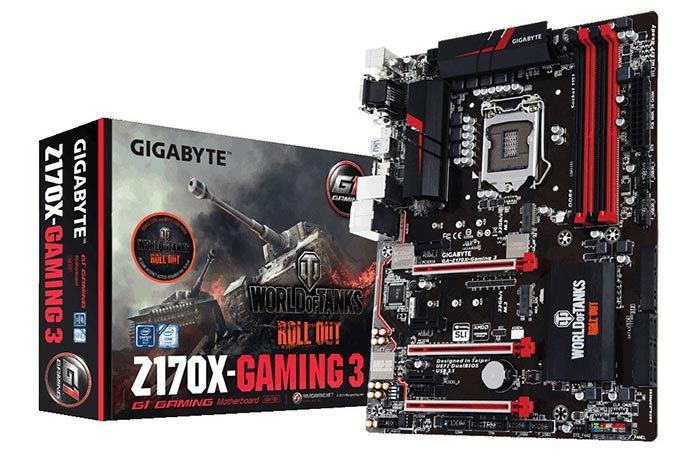 At the lowest end of the promotion benefits scale, the Gigabyte G1 Sniper B7 (which is priced around £100) enjoys a 'Bronze' level 3 year warranty, direct RMA replacement in case of failure and £15 (€20) towards your next Gigabyte motherboard. The top Gamer Pack reward is the 'Diamond' package, which buyers of the GA-Z170X Gaming G1 motherboard (costing about £425) receive. To these customers Gigabyte will give 5 years warranty, express exchange with users receiving a new motherboard before they ship off the old faulty one, and a next-gen bonus of £75 (€100).
These are pretty good bonuses to enjoy for free. Gigabyte goes as far as claiming the new Gamer Packs offer 'care free' gaming and 'futureproofing'. If you were leaning towards the purchase of one of these motherboards already the promotion could help confirm your choice. The next-gen bonus seems like a clever way to make the Gigabyte brand 'sticky' in a competitive market.