Gigabyte has launched four new motherboards aimed at the server and workstation markets. The motherboards are all based upon the Intel C230 series chipset, providing support for the latest Intel Xeon E3-1200 V5 family of processors, formerly known as 'Greenlow'. Two of the motherboards are aimed at workstations, the Gigabyte MW31-SP0 and MW21-SE0. Another two are aimed at servers, the Gigabyte MX11-PC0 and MX31-BS0.
The range of motherboards that Gigabyte has launched include ATX, micro-ATX and mini-ITX form factors, and a premium and budget model for both server and workstation deployments. They all feature support for the aforementioned processor family, based upon the Skylake microarchitecture, and DDR4 memory technology. Gigabyte boasts that the quartet of boards are built with high quality "server grade components".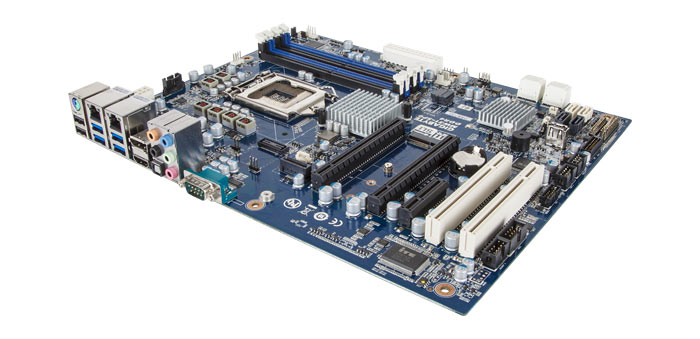 Workstation Motherboards
Gigabyte's MW31-SP0 is an ATX motherboard aimed at professional tower workstations. Users have upgradeability thanks to 4 x DDR4 DIMM slots, an M.2 slot, 8 x SATA 3 ports and support for dual graphics cards. The MW21-SE0 is an entry level workstation motherboard in the micro-ATX form factor. You still get 4 x DDR4 DIMM slots but less SATA and PCIe connectors and no M.2 slot.
Server Motherboards
The Gigabyte MX11-PC0 is a Mini-ITX form factor server motherboard with rackmount optimized component placement. It features 2 x DDR4 DIMM slots and 2 x GbE LAN ports. An NVMe technology port is provided for faster data transfer performance. Gigabyte's MX31-BS0 is a microATX form factor entry-level server board, again rackmount optimised. Thanks to its larger area it supports 4 x DDR4 DIMM slots, 2 x GbE LAN ports and more SATA III ports than the MX11-PCO. However it doesn't provide an NVMe port, instead it features an M.2 slot.
Workstation

Server

MW31-SP0

4 x DDR4 DIMM slots supporting up to 64GB of ECC memory

2 x GbE LAN ports (Intel® I210 + I219LM controllers)

Rear I/O add-on card slot

2-way NVIDIA® SLI™ & AMD® CrossFireX™ support

1 x M.2 slot

8 x SATA III 6Gb/s ports

MX11-PC0

2 x DDR4 DIMM slots supporting up to 32GB of ECC memory

2 x GbE LAN ports (Intel® I210 controller)

1 x NVMe port

4 x SATA III 6Gb/s ports

1 x PCIe x16 (Gen3 x16 bus) connector

Aspeed AST2400 remote management controller

MW21-SE0

4 x DDR4 DIMM slots supporting up to 64GB of ECC memory

1 x GbE LAN port (Intel® I219LM controller)

6 x SATA III 6Gb/s ports

1 x PCIe x16 (Gen3 x16 bus) connector

4 x USB 3.0 ports

2 USB 3.0 + 2 x USB 2.0 ports via headers

MX31-BS0

4 x DDR4 DIMM slots supporting up to 64GB of ECC memory

2 x GbE LAN ports (Intel® I210 controller)

1 x M.2 slot

6 x SATA III 6Gb/s ports

1 x PCIe x16 (Gen3 x16 bus) connector

Aspeed AST2400 remote management controller