The Eurasian Economic Commission (EEC) database is becoming a handy resource for finding out about soon-to-be-released hardware.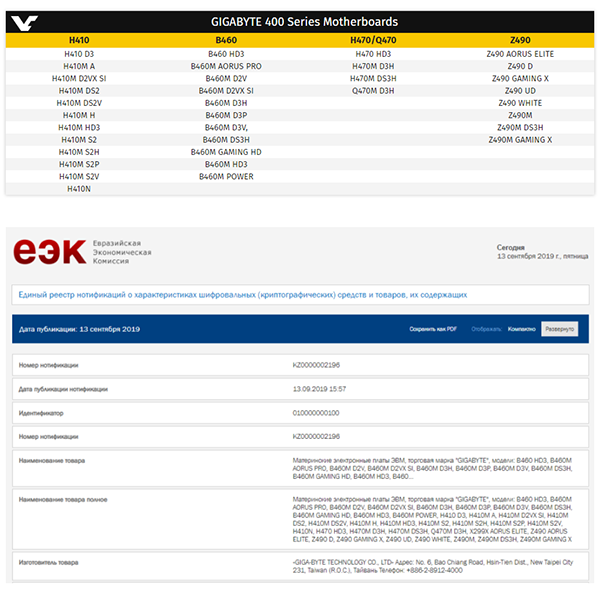 Going by an entry spotted by Videocardz, Gigabyte is planning on releasing a plethora of boards for Intel's upcoming 400-series chipset primed for 14nm Comet Lake and, eventually, 10nm Ice Lake desktop CPUs.
Allegedly using a brand-new LGA1200 socket, making it physically incompatible with all present processors, the 400-series chipsets are set to be productised as the H410, B460, H470, Q470 and, at the top of the pile, the enthusiast-class Z490. Such thinking follows on from how Intel presently divides its consumer desktop line-up.
Appreciating that Comet Lake is another Skylake-derived core, the 400-series marks the fourth different class of chipset supporting the base architecture built on a 14nm process.
Gigabyte is going in pretty heavy on the motherboard front, though it is reasonable to assume there will be a greater number of Aorus-branded boards based on the Z490 chipset.
It's clear that enthusiasts who want to invest in a 10-core mainstream CPU from Intel - the best Comet Lake-S, going by reports - will also need a new motherboard, with both most likely launching in Q1 2020. The good news is that, should you jump in, the board ought to provide drop-in support for the Ice Lake-S architecture, built from the ground up, which is likely to hit the enthusiast desktop in Q3 2020.
Does it all feel a bit too little, too late, in the face of the 3rd Gen Ryzen assault, or are you ready to wait for Intel to reinforce its mainstream offerings with the Comet Lake-S/Z490 combo? Feel free to share your thoughts.