Earlier in the week we saw EVGA announce the new Nu Audio Card at CES 2019. Via that link you can read more about this product and see Audio Note chief engineer Andy Grove talk you through the audio features on offer. Now HEXUS has caught up with Global Product Management Director at EVGA, Jacob Freeman, about the Nu Audio Card and other debut PC components at CES 2019. Interestingly the Nu Audio card is said to be the "first of many" audio cards that will come from EVGA in the future.
Loading...
Been waiting a while?
Get Flash
to see this player.
The first new product highlighted by Freeman in our video is the new EVGA Z390 DARK. This is EVGA's third gen DARK model and is notable thanks to its improved and upgraded component selections, VRM, NVMe I/O, and PCB layout, compared to the X299 DARK. Remember, DARK products include additional features for ultra-enthusiasts and overclockers.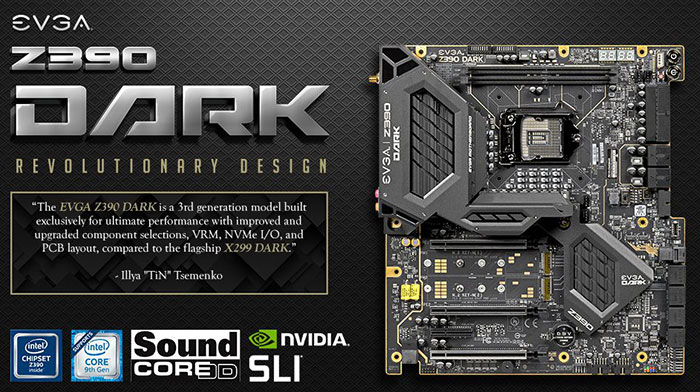 Key features of the EVGA Z390 DARK are:
Highly-Efficient 17 Phase Digital VRM
Intel Optane Memory Ready
New Integrated EVGA Wireless Module with Intel Dual-band Wi-Fi / BT5.0 with external antenna
Reinforced PCIe slots
EVGA's Latest GUI BIOS Featuring OC Robot and In-BIOS Stress Testing
SafeBoot button to reset the motherboard and go into the BIOS with last known good settings without clearing CMOS
Slow Mode switch locks CPU multiplier to lowest possible setting to allow users to switch between max OC and low speeds in real-time.
SPI flashing via USB allows you to flash your BIOS without a CPU
Onboard Temperature and Voltage Monitoring
Onboard Clear CMOS, Power and Reset Buttons
Triple BIOS Support
EVGA E-LEET X Tuning Support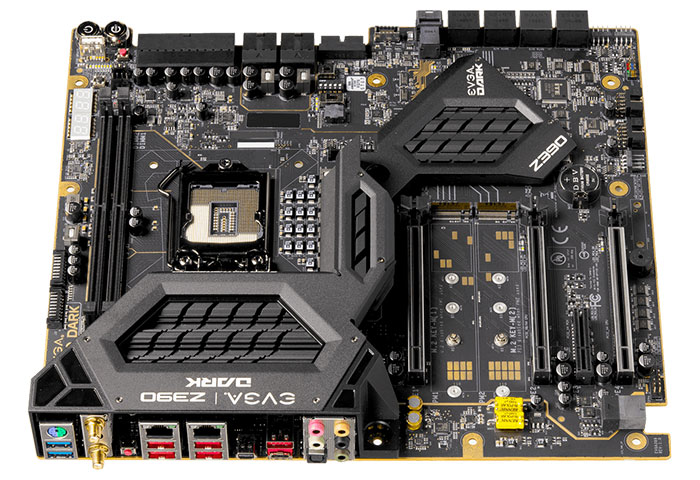 Particular changes and upgrades evident in the EVGA Z390 DARK are:
The CPU Socket is turned 90-degrees, which allows the memory to run parallel to the top of the chassis.
The entire VRM is cooled with a large passive heatsink.
This design allows for chassis airflow to pass unimpeded over the top of the power connectors, across the CPU and memory, and through the rear-panel heatsink.
In addition to the above Freeman talked about how the modified DIMM slot placement will be welcomed by the overclocking community.
An official product page for this new motherboard can be checked out if you are interested. The board is now listed in the EVGA web store at $499.99.
The highest end graphics card in EVGA's lineup has been revealed to be the new KingPin edition of the EVGA GeForce RTX 2080 Ti. We don't have a full product page to make reference to at the time of writing but the example in the video has been simply connected to a hybrid cooler for appealingly cool running temperatures.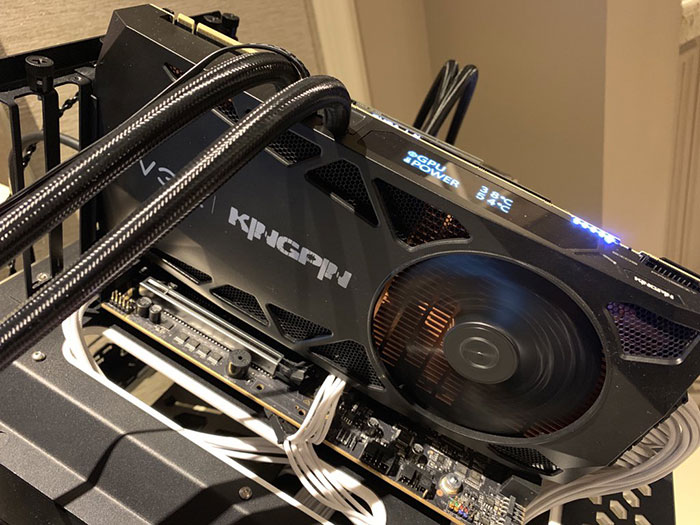 As usual the KingPin Edition has had a great deal of time spent designing it for the ultimate overclocking feats. Helping you keep up with how the card is performing in the heat of the moment there is an OLED display built into the card, with data live from EVGA Precision - showing power, temperature, frame rates, and more stats.
EVGA was also showing off some of its new RTX 2060 graphics cards. Three samples from the 6-model RTX 2060 range were at EVGA's CES suite. In the video you can see the top end 2-slot EVGA GeForce RTX 2060 XC Ultra with an 8 power phase design, and a boost clock of 1830MHz. Freeman also picks up the single-fan EVGA GeForce RTX 2060 SC with 6 power phases and a boost clock of 1710MHz.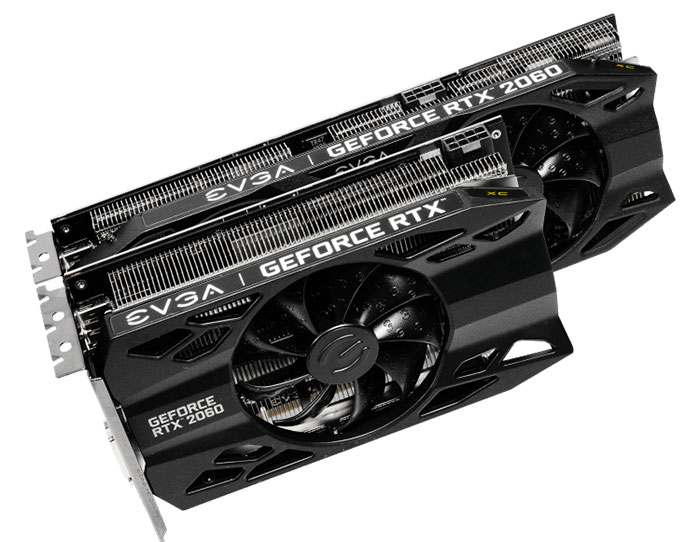 The new EVGA RGeForce RTX 2060 graphics card range will start to ship later this month.