EVGA has partnered with the Audio Note UK to create its first sound card. The EVGA NU Audio Card is a shielded PCIe card that you fit in your system, bucking the current trend for external soundcards and DACs. With this product-first from EVGA, you will not be surprised to see/hear lots of big claims for the quality and features on offer.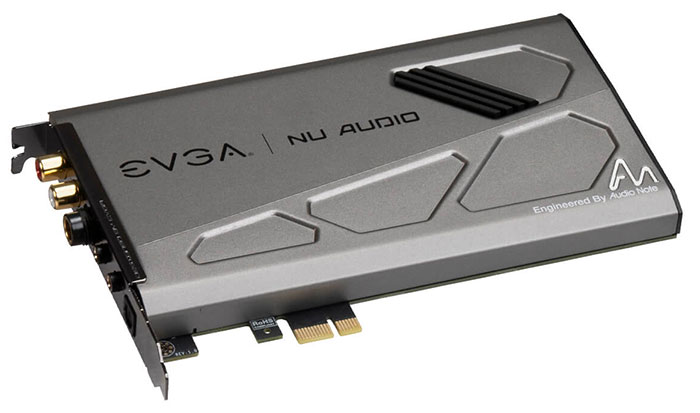 Audio Note (UK) Ltd was chosen as the EVGA partner due to its 30 year experience in producing digital and analogue audio devices, many using custom made parts with a focus on quality above other considerations. EVGA has a quartet of key claims for its new product as follows:
True Audio - Hear audio as it is
Lifelike Gaming - Improved and precise enemy detection, and increased immersion.
Studio and Audiophile Grade - Hear all the subtle sounds, emotional dialog, and powerful explosions to keep you on the edge of your seat.
Ambient RGB Lighting - Set the RGB lighting to match your mood, or use Audio Reactive Lighting options to let your audio control the effect. (RGB Can be disabled "for strict audiophile performance").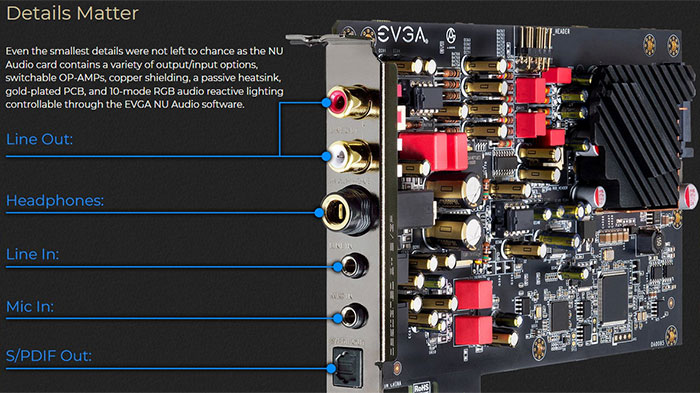 Turning to details of the components of the EVGA NU Audio Card, EVGA lists details of the DSP, DAC, ADC, OP-AMPs (swappable) used. It goes further to talk about the custom Audio Note components employed including audio-grade capacitors and resistors. These components are installed on a high quality silver and gold plated multilayer PCB, with isolated dual-ground planes for analogue and digital circuitry, which I find reassuring. EVGA's power supply experience has been put into play to ensure a low noise, regulated supply keep this card working with minimal interference.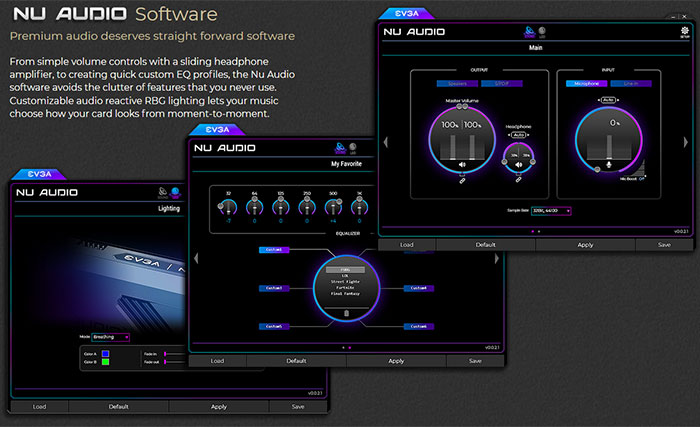 Complementing the hardware EVGA bundles the clutter-free Nu Audio software with custom EQ profiles and other features you might expect to find (plus RGB lighting adjustment).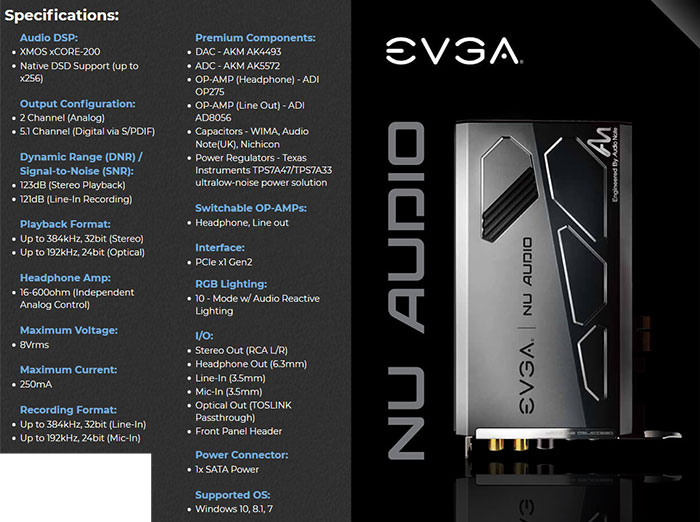 The EVGA NU Audio Card will become available from 16th January, I don't have any pricing details at this time.
Loading...
Been waiting a while?
Get Flash
to see this player.