Samsung has partnered with Best Buy in the US to launch the Samsung Notebook 7 spin. This new laptop is a 2-in-1 machine with the format flexibility coming from the 'spin' of the full HD touch screen. Samsung is providing these new laptops with plenty of configuration choices, choose between 13.3-inch and 15.6-inch screens, 6th gen Intel Core i5 or i7 processors, RAM, HDD, and SSD options.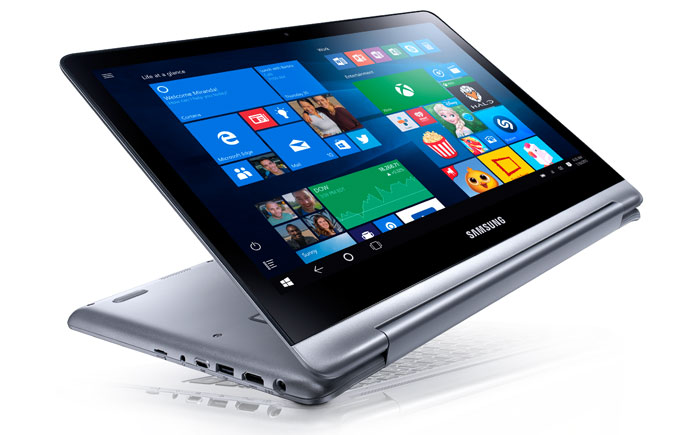 As with similar convertibles the Samsung 7 spin attempts to address both productivity and entertainment needs of customers. The processing power, RAM, storage options, and full HD screens should be good enough for most intended portable productivity needs. Furthermore, the full HD touch screen with Video HDR mode and wide viewing angles is said to be a boon to movies and casual games. The Notebook 7 spin makes full use of Microsoft's Continuum mode when you use it as a laptop, tent-mode movie watching device, or tablet.
"Consumers are using PCs for everything from working on the go to streaming entertainment around the home, and with the Notebook 7 spin, we've built a multimedia laptop that is ready for today and built for tomorrow. It has the unique ability to upgrade by adding an SSD to cut down on load times while also adding storage, as well as the ability to upgrade the RAM, enabling consumers to accomplish more at once," claimed Gary Riding, senior vice president, Product Marketing at Samsung Electronics America.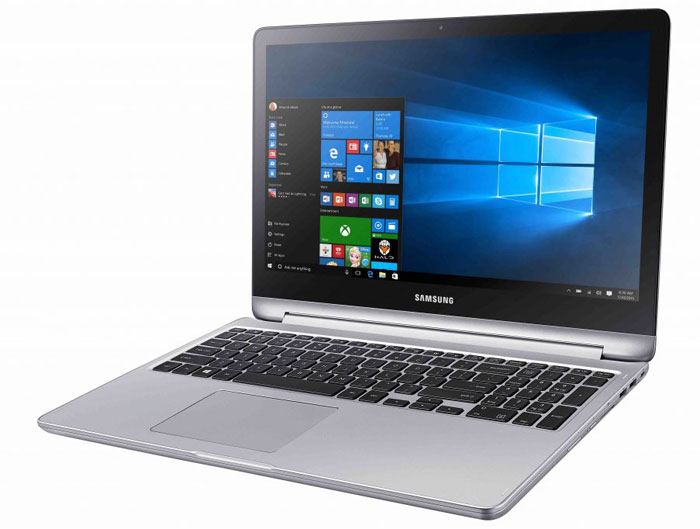 Beyond the headline specs, Samsung has implemented some compelling modern tech in these new 2-in-1s. As mentioned above there is the HDR mode screen, and SSD storage options. Furthermore these machines provide 1x USB-C port offering up to 5Gbps transfers, fast charging, and 4K display out with optional adapter. Charging is indeed particularly fast with 20 minutes charging providing an additional 2 hours of charge and in 90 and 100 minutes respectively the 15.6-inch and 13.3-inch versions can be fully charged up. Whichever machine you choose you will enjoy an auto backlit keyboard – albeit tenkeyless in the case of the 13.3-inch models.
The Samsung Notebook 7 spin will become available in Best Buy, BestBuy Online and Samsung Stores from 26th June. Full specs are provided below.
Samsung Notebook 7 spin specifications
13.3-inch

15.6-inch

15.6-inch

Operating System

Windows® 10

Windows® 10

Windows® 10

Processor/Chipset

6th Gen Intel® Core™ i5 Processor 6200U (2.30 GHz up to 2.80GHz 3 MB L3 Cache)

6th Gen Intel® Core™ i7 Processor 6500U (2.50 GHz up to 3.1GHz 4 MB L3 Cache)

6th Gen Intel® Core™ i7 Processor 6500U (2.50 GHz up to 3.1GHz 4 MB L3 Cache)

Graphic

Intel® HD Graphics 520

NVIDIA® GeForce® 940MX Graphics with 2GB DDR3L Graphic Memory

NVIDIA® GeForce® 940MX Graphics with 2GB DDR3L Graphic Memory

Display

13.3" FHD LED Display (1920 x 1080) with Touch Screen Panel

15.6" FHD LED Display (1920 x 1080) with Touch Screen Panel

15.6" FHD LED Display (1920 x 1080) with Touch Screen Panel

Memory****

8GB DDR4 Memory at 2133MHz (4GB x 2)

12GB DDR4 Memory at 2133MHz (8GB x 1 + 4GB x 1)

16GB DDR4 Memory at 2133MHz (8GB x 2)

Hard Drive

1TB

1TB

1TB with 128GB SSD

Color

Platinum Silver

Platinum Silver

Platinum Silver

Multimedia

Internal Dual Array Digital Mic

Internal Dual Array Digital Mic

Internal Dual Array Digital Mic

Stereo Speakers (1.5 W x 2 )

Stereo Speakers (1.5 W x 2 )

Stereo Speakers (1.5 W x 2 )

SoundAlive™

SoundAlive™

SoundAlive™

Web camera

Web camera

Web camera

Ports

1 Headphone out/Mic-in Combo

1 Headphone out/Mic-in Combo

1 Headphone out/Mic-in Combo

1 DC-in

1 DC-in

1 DC-in

1 HDMI

1 HDMI

1 HDMI

1 RJ45 (LAN)

1 RJ45 (LAN)

1 USB3.0

1 USB3.0

1 USB3.0

2 USB2.0

2 USB2.0

2 USB2.0

1 USB-C™ [up to 5Gbps*, Charging, 4K display out with optional adapter]

1 USB-C™ [up to 5Gbps*, Charging, 4K display out with optional adapter]

1 USB-C™ [up to 5Gbps*, Charging, 4K display out with optional adapter]

MicroSD Multi-media Card Reader

3-in-1 (SD, SDHC, SDXC) Multi-media Card Reader

3-in-1 (SD, SDHC, SDXC) Multi-media Card Reader

Input

Clickpad

Clickpad

Clickpad

Touch screen

Touch screen

Touch screen

Island-type Backlit keyboard

Island-type Backlit keyboard with numeric key

Island-type Backlit keyboard with numeric key

Power

40 W AC Adapter

60 W AC Adapter

60 W AC Adapter

45Wh Battery

45Wh Battery

45Wh Battery

Dimension

323.4 x 227.7 x 19.8mm (12.75" x 8.98" x 0.78")

374.5 x 256.9 x 19.8mm (14.74" x 10.11" x 0.78")

374.5 x 256.9 x 19.8mm (14.74" x 10.11" x 0.78")

Weight

3.90lbs

5.00lbs

5.00lbs

Price

$799.99

$999.99

$1199.99
MOST VIEWED
MOST COMMENTED