We first saw the EVGA SC17 Gaming Laptop back in January at the CES in Las Vegas. EVGA Product Manager Jacob Freeman personally gave HEXUS a video introduction and over view of this potent portable. Now EVGA has launched this laptop, its first ever, with pre-orders now open and the intention to start shipping from mid-April. This 17-inch IPS 4K screen equipped machine with 6th generation Intel Core i7 6820HK processor and Nvidia GeForce GTX 980M (8GB GDDR5) GPU is priced at $2699.99, with a limit of one per household.
Back in January we got a good overview of this new high performance 4K UHD gaming laptop but, as you would expect, EVGA has now published full technical specifications – after all you can actually lay down your hard earned cash from today.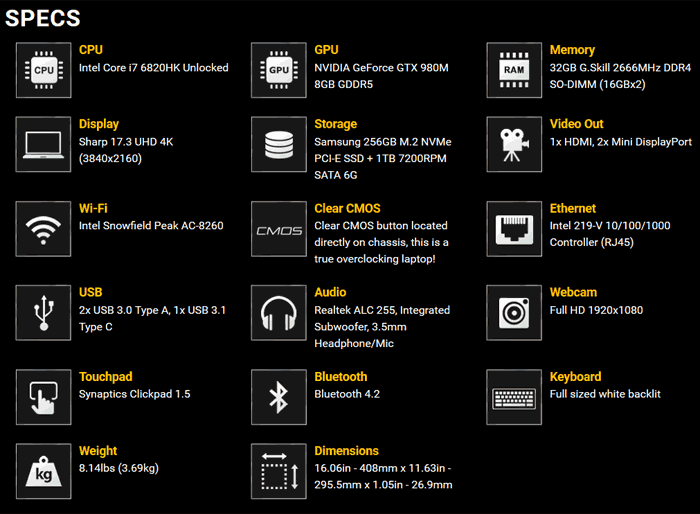 Above you can see all the key technical specifications for the SC17. However we all know there's a lot more to a laptop than the mere sum of parts. First of all EVGA claims to have taken "no shortcuts" in producing its first ever laptop. The design comes from the ground up and is squarely aimed at the 'hardcore gamer', says the firm. With that in mind and with EVGA's pedigree you know that there are features beyond the bare tech specs implemented in the design here.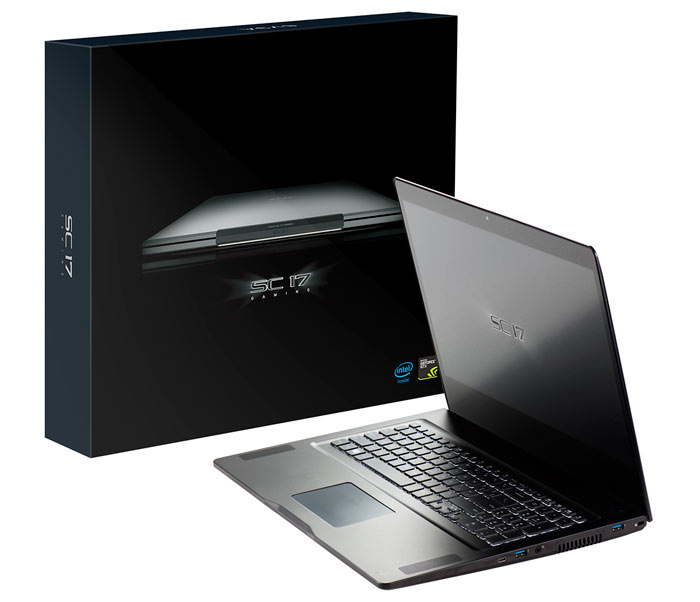 EVGA asserts that "it all starts with power" and provides in in-house designed power supply in a 'unique form factor' to provide up to 240W when required. The Intel Core i7 6820HK CPU equipped is unlocked and capable of overclocking to 3800MHz and beyond. The GPU, an Nvidia GeForce GTX 980M, is also overclockable. Complementing these hardware choices EVGA has provided a full GUI BIOS with mouse control to allow thorough tweaking of key settings such as voltages. A chassis mounted clear-CMOS button makes it even easier to start again should you tipple over the edge of what is possible. Further tweaking within Windows is available via the EVGA PrecisionX software, or via your mobile with EVGA PrecisionX Mobile.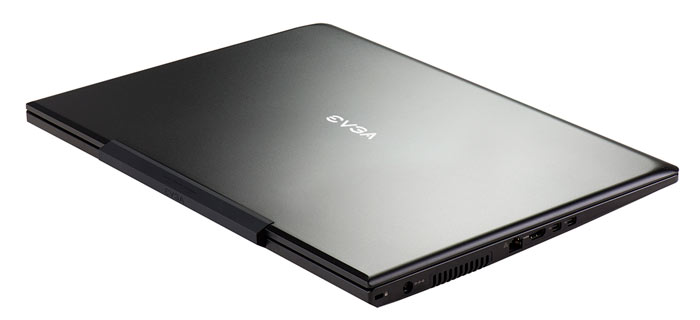 Other key specs worth highlighting are the inclusion of a Samsung 256GB M.2 NVMe PCIe SSD, plus SATA 6G 7200RPM 1TB HDD, and 32GB of G.SKILL 2666MHz DDR4 RAM is fitted (2x 16GB). You have a fully backlit keyboard, integrated subwoofer sound system, and fast USB 3.1 Type C plus 2x USB 3.0 ports. You can connect additional displays thanks to the 1x HDMI and 2x mini DisplayPort outs.
With so many high performance overclockable components in the confined space of a laptop, an equally good chassis and cooling system is a must. The design is said to offer "high thermal efficiency" with 165W+ thermal capacity. EVGA has managed to design the SC17 into a 'sleek' unibody chassis which folds to just 1.05-inches thick (26.6mm). The SC17 weighs in at 3.69Kg.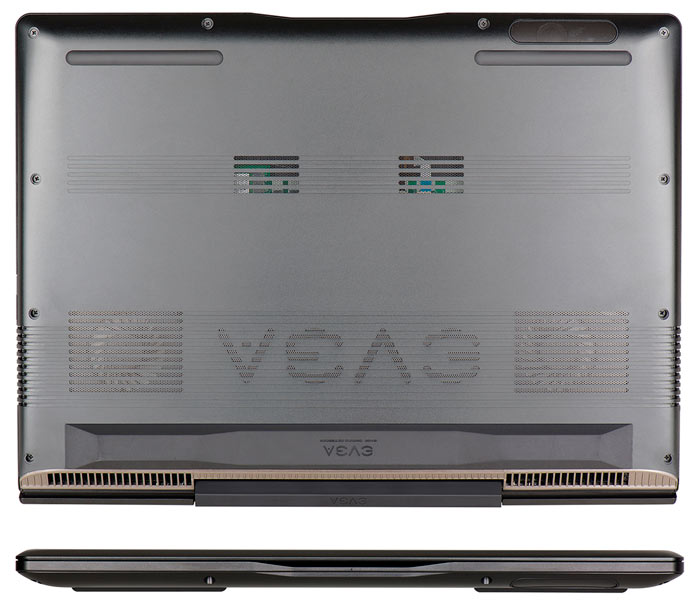 As mentioned in the intro, the EVGA ships starting mid-April but is pre-orderable now at $2699.99. Buyers receive a 2 year warranty, and for a limited time EVGA is bundling a free TORQ gaming mouse.