Hewlett Packard has launched a Star Wars Special Edition laptop which is inspired by the dark side. The product, its packaging and exclusive content within, are all designed to seduce Star Wars fans. As you can see from the pictures, the new laptop features lots of iconic imagery and Star Wars inspired 'battle worn' design touches. Technically this 15.6-inch Full HD laptop seems to be pretty respectable too, with your choice of Intel Skylake Core processor, an optional Nvidia GeForce GPU, up to 12GB of RAM, up to 2TB HDD, red backlit keyboard, and audio by B&O PLAY.
The laptop features a Star Wars inspired graphic both inside and out. It's a mainly monochrome affair but there is some red interspersed in the design to help it 'pop'. Inside you will notice that the touchpad is etched with a death star corridor style and HP has fitted a keyboard with red backlighting to complement the red highlights elsewhere on the laptop and packaging.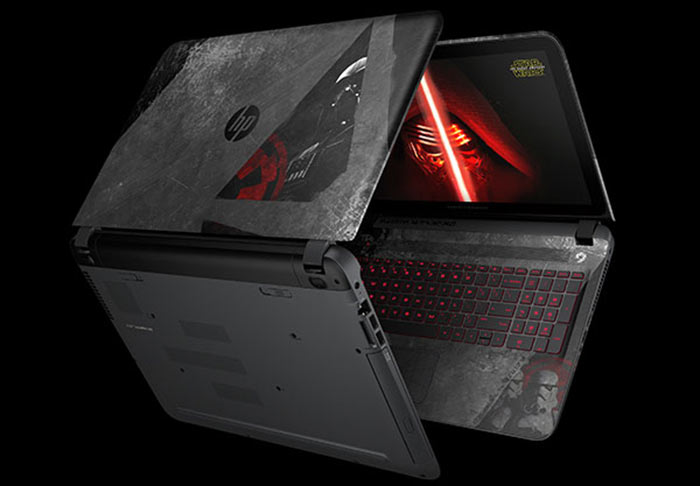 Special Star Wars fan content includes over 1,000 images, wallpapers, sound schemes, fonts and media such as comic books and movie trailers. Buyers will enjoy the extensive Star Wars themed packaging. Even the power adaptor box is designed with a storm trooper on it. You can also get some more practical accessories such as a wireless mouse and padded zipper sleeve carrying Star Wars designs. In the US buyers get a free one-year membership to Fandor (a $90 value) and its streaming movie collection. In the US this laptop will be priced from $699, you can pre-order now and it will ship before the end of October. Here in the UK we don't have many details about the bundle, and even the price and availability are lacking.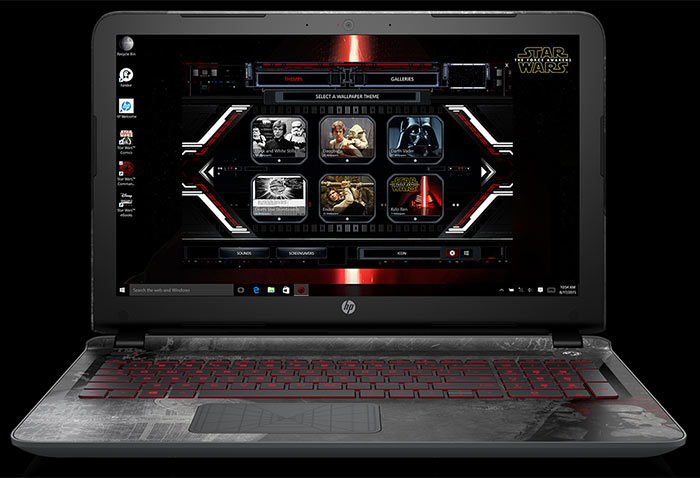 HP Star Wars Special Edition laptop key specifications:
Choice of sixth-generation Intel Core i5 and i7 processors
Intel HD Graphics 520 and up to Nvidia GeForce 940M GPU
Full HD, and optional touch screen, in a 15.6-inch diagonal IPS display
up to 12GB of RAM
up to 2TB of hard disk drive storage
Re-writable DVD drive
B&O Play and Dolby stereo speakers
Weighs about 5lb / 2.3Kg
Up to 7 hours of battery life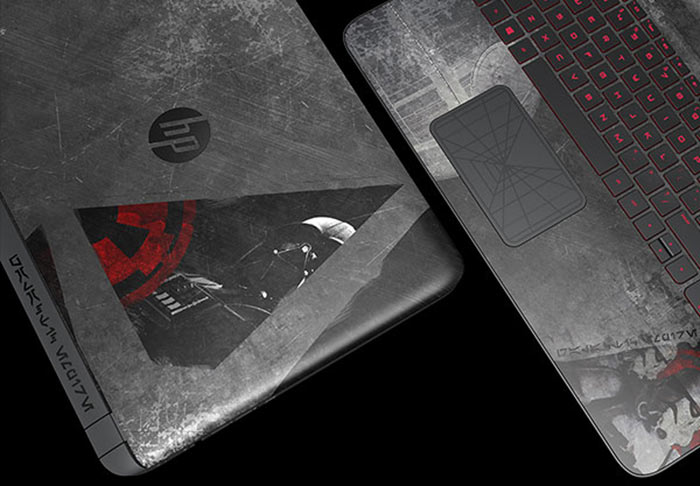 In other Star Wars news the Star Wars: Battlefront PC beta playing period has been extended until Tuesday.