Google has just launched a new version of its Chromebook. It's an 11.6-inch screened 17.5mm thick laptop manufactured by Samsung and will retail at £229 in the UK ($249 in the US). You will be able to buy the new Chromebook at PC World and Currys as well as online from the Google Play store starting next week.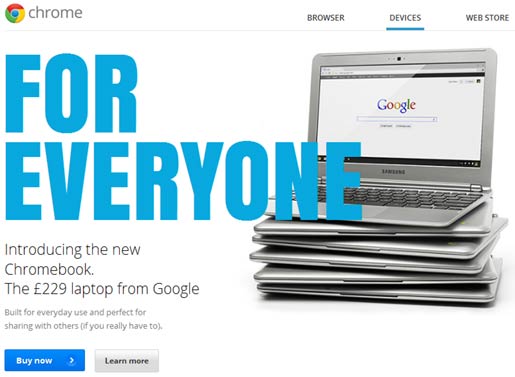 Sundar Pichai, writing about the new Chromebook on the official Google Blog said "The new Chromebook is a great computer at any price, but it's an incredible computer at $249. It's one of the lightest laptops on the market. You can easily carry it around all day - its 2.5 pounds, a mere 0.8 inches thick, with more than 6 hours of battery life for the typical user. And with 100GB of free storage on Google Drive*, you can get to all of your stuff anytime, anywhere."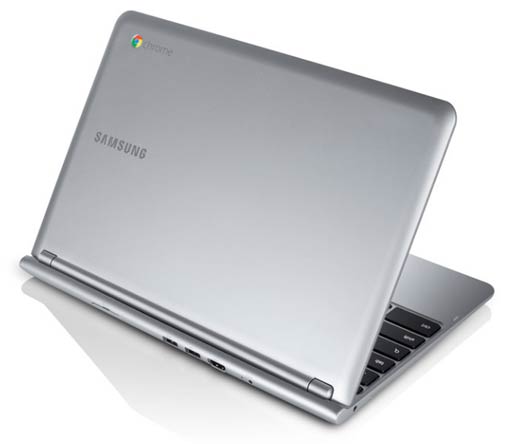 Let's look at the tech specs
11.6'' display at 1366 x 768 pixels
17.5mm thin and 1.1 kg
Dual-core Samsung Exynos 5, A15 based ARM CPU, requiring no fan
2GB of RAM
16GB of flash storage (100GB of online storage free for 2 years)
USB3.0 and USB 2.0 ports, HDMI port, headphone/mic socket, SD card slot
VGA camera
Over 6.5 hours of battery
Boots up in less than 10 seconds "and resumes instantly"
Supports 1080p video playback
Dual band Wi-Fi a/b/g/n and Bluetooth
Suggesting who might use the new Chromebook Mr Pichai says "Many people use the Chromebook today as the perfect additional computer for their home. For families, it's easy to use and share: for kids doing homework on the couch, parents catching up on emails at the kitchen counter and grandparents staying connected on video chat. There's no need to worry about security updates and maintenance is easy; all you need to do is charge the battery. It just works." This, he says is "the Chromebook vision". It's also good to share among the family as everyone can have separate accounts with their stuff kept safe. He adds that if you are a fan of the Google ecosystem such as "Gmail, Drive, Search, Maps, YouTube, Play or Google+ Hangouts" then the Chromebook will work "seamlessly" for you.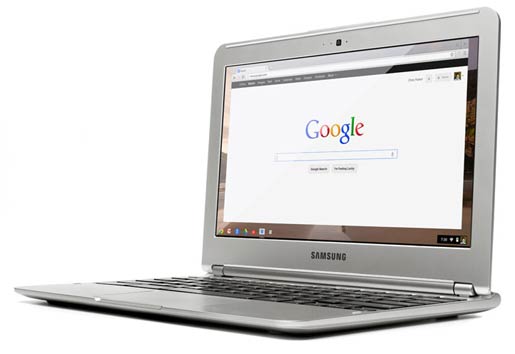 Previous Chromebook sales have been sluggish and perhaps Google has seen what a great kick-start it got from keenly pricing the NEXUS 7 tablet. This new Chromebook is launched in the face of more portable competition from many angles and the upcoming Microsoft Surface. It's nice to see the good connectivity of this Chromebook and the inclusion of an SD card slot.
Have a look at the Google Chromebook for everyone promo video below and let us know what you think (of the new Chromebook). Is a Chromebook useful or desirable for you?