Something to note down in your diary, May 31st at a PR event in Taipei, days before Computex, which, rather disappointingly, is running alongside E3, Gigabyte is to announce its new X11 notebook, which it claims will be "The lightest notebook on Earth." Holding-back on claims on the scale of galaxies or universes, gracefully accepting that should aliens exist, they may very well have produced a lighter notebook.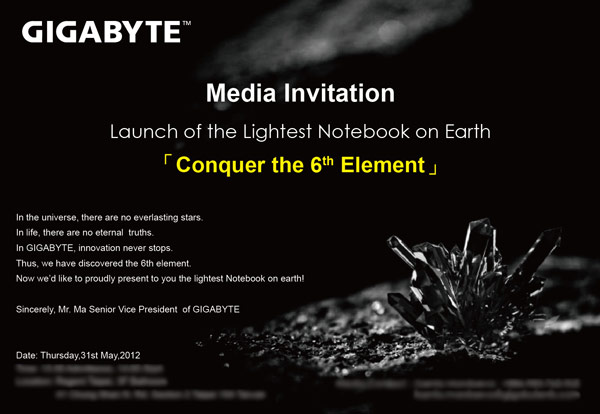 With reference to the '6th Element' in the pre-announcement, Gigabyte is perhaps suggesting construction from carbon fibre, with carbon as the 6th element in the periodic table. Other lightweight Notebooks are also utilising new alloys, such as the lithium-magnesium alloy employed by NEC on its latest LaVie Z 13.3 inch Ultrabook, which weighs only a single kilogram. There's also the remote possibility for new tech such as flexible OLED displays, which, by utilising a plastic substrate, weigh less than glass alternatives. Another large factor in notebook weight is the battery, and so this is something else to keep an eye on during the announcement.
There's a lot to look forward to in the second week of June, with Computex for technology lovers, E3 for gamers and lots of surprise announcements, we'll be busy here at HEXUS to bring you the latest news as it crops up at each event.