Unless it was hiding it very well, MSI decided not to bring its WindPad 100W out to play at CES. Nonetheless, the company has announced that the slate will be shipping this month in Europe - starting with Germany - priced at €599, or around £500.
Unfortunately, details on the internals are still a little spotty, and we're still waiting to hear the official word from MSI. Earlier reports suggested that the tablet would be powered by Intel's upcoming Oak Trail Atom platform that seemed to be powering a lot of new Wintel tablets and netbooks at CES.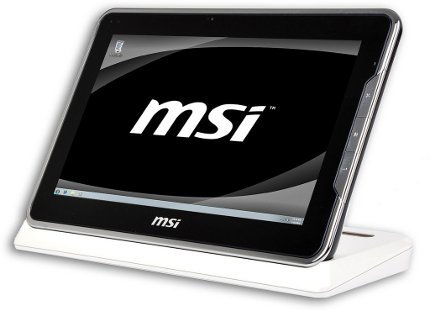 However, some other sources are now claiming that it'll be powered by the older 45nm Intel Atom Z530 CPU clocked at 1.6GHz. On the one hand, this was the CPU powering the original WindPad that we saw kicking around at Computex and fits better with the timeline than the still unreleased platform. However, the native HDMI port, six-hour battery life, 64-bit OS - the Z530 doesn't support 64-bit operation - and the fact that Oak Trail is just around the corner all point to the newer processor being under the bonnet.
What we do know is that the 10in display will feature a 1,024x768 resolution and there'll be 2GB RAM, a 32GB SSD, WiFi, Bluetooth, an SD card reader, a pair of webcams. The OS will be the 64-bit version of Windows 7 Home Premium with the Wind Touch Pack software running on top to hopefully provide a better experience for your fingers.
The device itself will apparently weigh in at 800g and measure 18.5mm thick.
We'll reserve full judgement until we've had a chance to examine this one for ourselves, but it looks like the WindPad 100W could be in our eager hands sooner rather than later.