Not content with launching one award winning device at CES - one rep told us that they'd one so many awards that he'd forgotten which devices had won each one - Motorola also trotted out its entry into the tablet market - the Xoom.
The sleek 10in tablet will sport a 1,280x800px screen, making it capable of playing back 720p content without the need for any sort of scaling. The dual-core 1GHz ARM processor - we're guessing the same unnamed chip that powers the Atrix - will also ensure that high-def content plays back without any hiccups.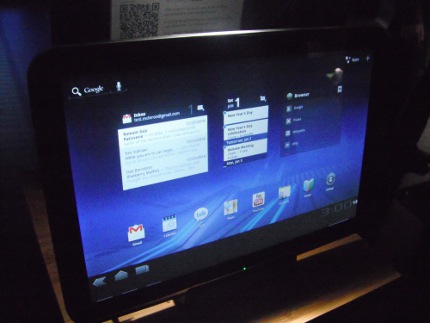 Otherwise, the hardware is pretty much what you'd expect to see on a high-end smartphone or tablet. There'll be 1GB RAM alongside 32GB of flash storage which can be expanded using an SD card, an HDMI output supporting resolutions up to 1080p, a 2MP front facing camera and a 5MP sensor on the back capable of capturing HD video.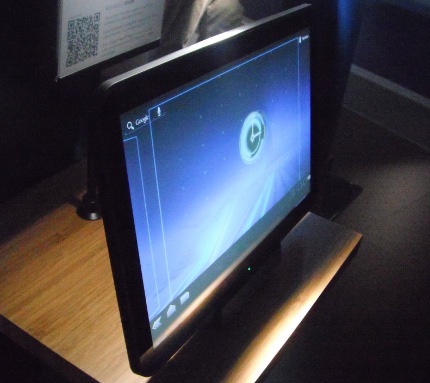 The battery should last between six and ten hours, depending on how it's being used and the device will weigh in at about 1.5lbs (680g). Unlike other Android devices, there will be no hard or soft buttons surrounding the screen - the only button of any kind was the power button on the back of the device.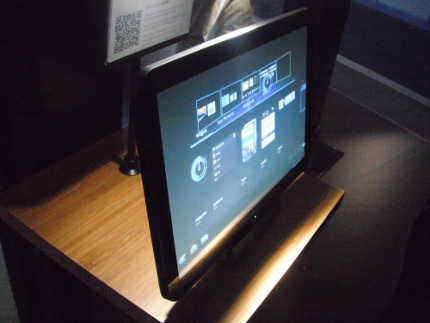 Initially Motorola will be launching the Xoom on Verizon's 3G network in the US sometime in Q1, followed by a 4G upgrade in Q2. Interestingly, early adopters will be able to take the tablet back to either Verizon or Motorola to have the hardware upgraded to support 4G once it becomes available, although specific details on how this will work haven't been ironed out yet.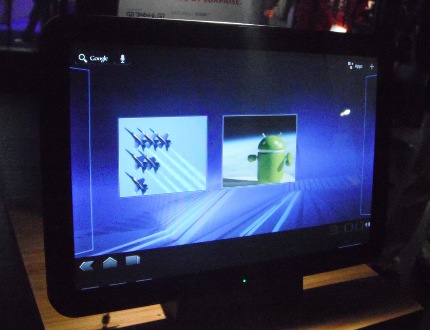 However, one of the most exciting things about the Xoom is that it'll be the flagship device for the next version of Android, codenamed Honeycomb. Although the display units were only running Froyo - apparently Google is a little sensitive about showing the still-in-development OS - they were showing videos of the next version of Android in action. Unfortunately, it was difficult to pick up any specifics, but it was easy to see that this was a major upgrade that's been thoughtfully and specifically tuned for larger devices.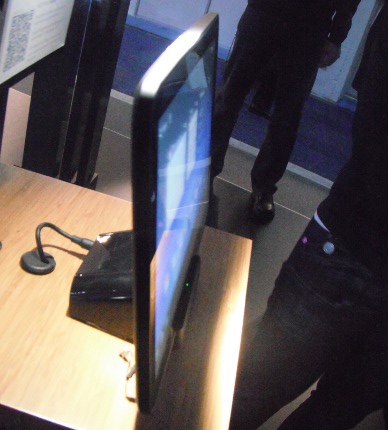 Unfortunately, the Xoom is exclusive to Verizon at the moment and no international carriers have been announced. However, as the Honeycomb launch device, we're sure Google and Motorola will announce partners in the UK before long.