Samsung went all out at CES this year with one of the largest booths on the show floor. But there was one thing in particular that grabbed our attention - and then absolutely blew us away.
The luscious 9 Series laptop is an absolute stunner that has to be seen to be believed. The svelte curves are reminiscent of the design on some of the electronics giant's recent netbooks, albeit with a decidedly high-end look courtesy of the matte finish on the metal chassis. We could gush over the looks some more, but in this case a picture really does speak a thousand words.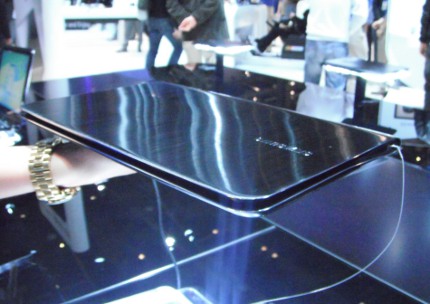 The 13incher tips the scales at 1.31kg and measures only 16.3mm in depth, making it an undeniable ultraportable. For reference, we grabbed a few pictures of the laptop next to a Samsung smartphone, and the difference between the two was pretty small. Although the reps on the floor were pretty cagey on the specs, a press-release confirmed that there'll be a low-power second generation (Sandy Bridge) Intel Core i5 2537M CPU on the inside, 4GB RAM, a 128GB SSD and a battery rated for 6.5 hours away from the charger.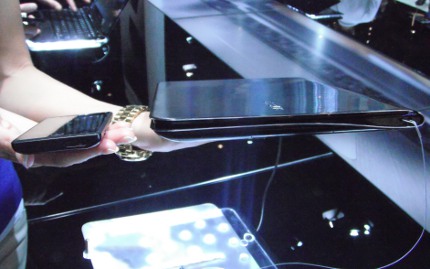 The screen is also worth a specific mention. It features Samsung's SuperBright Plus technology that promises 400nits of brightness - twice the normal on this sort of laptop, apparently - and a 1,300:1 contrast ratio. However, all you really need to know is that the colours are impressively vibrant and that everything looked very sharp.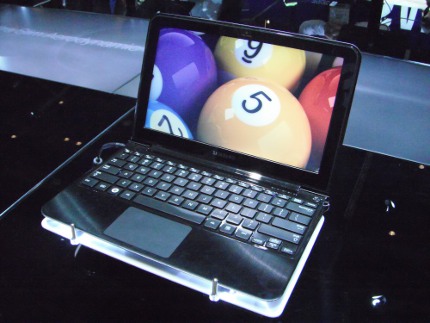 The best news, though, is that the sexy Series 9 will be available next month. The machine will cost $1,599 in the US, which works out to around £1,250, although official UK pricing hasn't been announced yet.