There's been plenty of talk about Toshiba's Folio 100 this week, but the tablet isn't the company's only hardware running NVIDIA's Tegra 2 SoC. The Android-powered AC100 is a 10in netbook that has quietly appeared on the manufacturer's webstore - and is now shipping in the UK.
The specs don't appear to have changed since they were announced in June, but as a refresher, the AC100 features a dual-core Tegra 250 clocked at 1GHz, 512MB DDR2, an 8GB SSD (expandable by 32GB with an SDHC card) and a 10.1in 1,024x600px screen. As for connectivity, the netbook supports 802.11n WiFi, Bluetooth 2.1 and an HDMI port capable of outputting resolutions up to 1,920x1,080px. A 3G version is planned, but isn't available yet.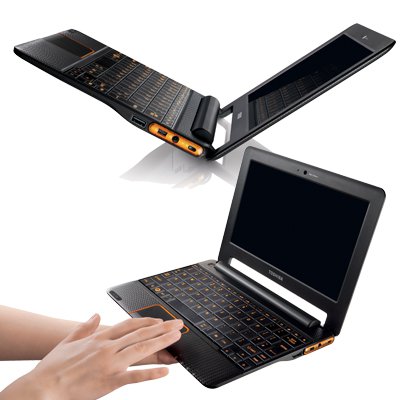 Of course, it's the operating system that will make this netbook stand out from the pack. With the exception of a few dual-booting systems, we haven't seen too many manufacturers opt for Android on a netbook. Toshiba is shipping the AC100 with Android 2.1 ('Eclair') - as opposed to Android 2.2, which was released recently - which it has modified with a custom interface. Unfortunately, the company hasn't stated whether it will offer an upgrade to Froyo, which is known to bring significant performance improvements.
A side effect of the unusual internals is that the manufacturer has managed to make the AC100 extremely thin and light. Measuring only 21mm at the thickest point and weighing 0.87kg, the system is significantly smaller than the average 10in netbook. The low-power components should also allow for exceptional battery-life, though Toshiba hasn't released any official figures.
Many manufacturers have struggled to sell non-Windows netbooks, but with sharp looks and a very-capable processor, the AC100 might be able to find an audience. However, it may also be the victim of unfortunate pricing. The WiFi-only version is shipping for £292.58 (including VAT), making it as expensive as some Atom-powered systems.
For those interested, the AC100 is available now from Toshiba, along with a full list of specifications.